Jumpstart Outdoors is a weekend outdoors & adventure travel company based in Mumbai. We cater to individuals and groups by arranging weekend trips to the outdoors within 150 – 300 km of Mumbai. We provide travel & meals as a part of the trip along with outdoor professionals and expertise along with equipment. Fun and Safety are the pillars of our events.
Below is our plan for our Summer Camp Lakshya: Military Experience Camp to be held at Khandala from the 19th & 22nd of May 2022.
Event page: https://www.facebook.com/events/358387109588600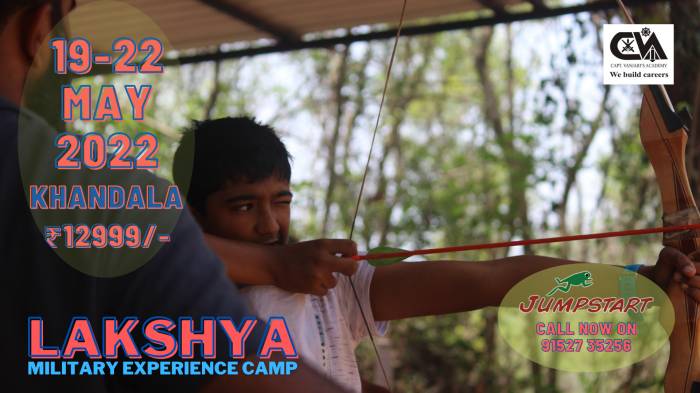 This Summer vacation, give your child an experience comparable to none other. An opportunity to develop one's personality physically, emotionally and psychologically.
Captain Vanjari's Academy and Jumpstart Outdoors, have collaborated to create LAKSHYA – MILITARY EXPERIENCE CAMP, which is a 4 day camp for Girls & Boys in the age group of 10 to 17 years. Get a firsthand experience of life in the Armed Forces, personalised interaction with Officers from the Army / Navy / Air Force.
It's not all serious stuff though … There are Outdoor Activities, Fun Games, extensive Strategy Tasks and Simulations. It's a combination of activities for your recreation, learning and self discovery, to be able to equip yourself to overcome every challenge that life may throw at you.
******************************************************
The Plan:
We will be travelling by an AC bus booked for us, which will begin from Mumbai at 06:30 AM and head towards Khandala, via Vashi.
Day 1 of Camp – Thursday, 19 May, 2022
Travel From Mumbai
Ice Breaking Games
Group division and Dorm / Tent Allocation
Intro & Schedule for the Camp ahead
Activities as per schedule
Day's Review
Day 2 of Camp – Friday, 20 May, 2022
Nature Trail & Bird Watching
Individual Obstacle Course
GTO Tasks & Team Challenges
Group Discussion
Military Planning
Slide Show on Local Flora & Fauna by Naturalist
Stargazing for Constellations & Direction Finding
Day's Review
Day 3 of Camp – Saturday, 21 May, 2022
Morning Exercise
Team Building Simulation Games
Rifle Shooting & Archery
Self Defence Workshop
Fauji Lecture by Ex-Military Personnel
Introduction to Thematic Appreciation, Treasure Hunt
Cultural & Talent Show
Day's Review
Day 4 of Camp – Sunday, 22 May, 2022
Morning Exercise
Survival Skills Workshop
Wilderness First Aid
Common Review & Josh Lecture
Feedback & Prize Distribution
Certificate Distribution
Leave for Mumbai
Reach Mumbai
*******************************************************
COST : Rs.12999/-
*******************************************************
Contacts:
Dhiren Talpade: 91527 35256
Chirag Sakhare: 99306 99569
*******************************************************
NOTE:
1.The cost includes travel from Mumbai to the Campsite and back would be by a private A/C bus.
2.The above costs also include fresh and nutritious meals on all days, including during travel.
3.The accommodation is in Shared Dormitories with individual beds and toilets and bathing facilities.
4.Participants will be required to get consent and medical history forms duly filled from their parents / guardians.
5.All instructors are trained for Wilderness First Aid and the Camp-in-Charge is a trained and certified Wilderness First Responder from the Wilderness Medicine Institute of NOLS, USA.
6.All members of the team are trained outdoor professionals and have relevant experience of working with children.
7.We have an emergency vehicle on standby.
*******************************************************
Disclaimer:
All Lakshya events take place in the great outdoors. The success of these events depend upon various factors which include climatic conditions, governmental / quasi-governmental policies, mechanical and human error in hired vehicles, etc. and despite checks and double checks, there is always a possibility that the event may not see through as planned or advertised. CVA & Jumpstart and it's representatives do everything in their reasonable capacity to ensure the smooth running of an event and stick to the advertised plan. However, in the situation that an event has to be shortened or cancelled, CVA & Jumpstart would stand liable to refund only the balance amount of the total amount paid after deductions of the actual cost incurred up to the moment.
Some tourist destinations in India charge different and higher fees for foreigners and the same would have to be borne separately by such a participant.
CVA & Jumpstart and its representatives do not subscribe to or encourage the consumption of any Alcoholic and/or Narcotic and Psychotropic substances during an event. Not only does the consumption thereof compromise the safety of the individual and the group physically, but also legally. Any participant who does not adhere to this policy during the event would automatically stop being a part of the event and be asked to make private arrangements for themselves thereon, without receiving any refund whatsoever.