Faculty of Law, Marwadi University is organizing 1st Virtual National Public Speaking Competition on 26th-27th June, 2021, for all the Bona-Fide Students for Standard 10th, 11th and 12th from any School recognized and affiliated with any Board (State/ Central) all over the Country.
Registration https://bit.ly/3vrsKVV
1ST VIRTUAL NATIONAL PUBLIC SPEAKING COMPETITION:
"The art of communication is the language of leadership."
Being a good speaker is not only about sharing your knowledge or experience, it is more about how you communicate and interact with the people in your ambience. To effectively communicate is probably the most important life skills of all others. It is only because of our communication skills, that we possess the ability to progress in this working world and life itself, which would otherwise be nearly impossible.
For children of such tender age as yours, sharpening the art of public speaking becomes very significant for boosting confidence. For overcoming the fears and insecurities accompanied with public speaking and ensuring that we all have valuable insights and opinions that are required to be heard by the world, National Public Speaking Committee (NPSC) has organised "Awaaz- 1st Virtual National Public Speaking Competition".
The very 1st edition of this auspicious event aims to give the students at Pan-India level, a national virtual platform to compete against each other and demonstrate their public speaking skills and develop within themselves, effective communication capability and leadership qualities.
RULES AND REGULATIONS: The Organising Committee of the 1st Virtual National Public Speaking Competition will have exclusive authority to interpret the rules in the interest of just and fair competition.
Eligibility: All the Bona-Fide Students from Standard 10th, 11th and 12th from any school recognized and affiliated with any Board (State/ Central). Note: There is no bar on the number of participants participating from a particular school/institution.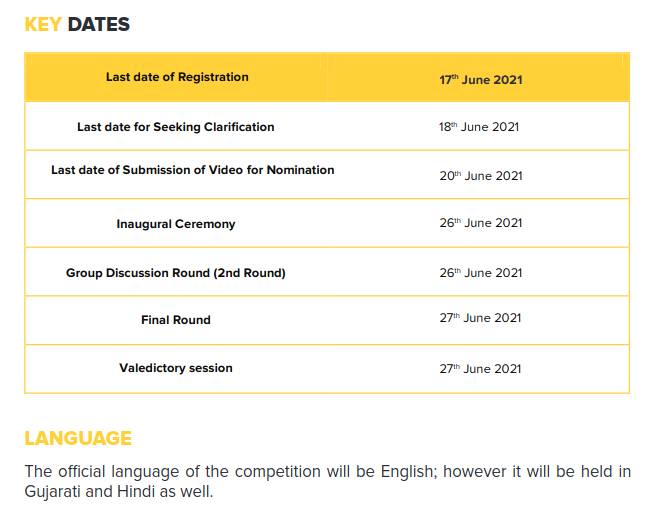 REGISTRATION PROCEDURE:
Online registrations are open from 24th May, 2021. The teams must register online by 17th June, 2021.The registration shall be done by filling up the registration form available at our official website.
The registration shall be considered complete only when the 'Registration Fee' has been paid successfully and the registration form is duly filled with all the credentials.
Registration fee once paid is non-refundable. The registration fee for the competition is 100.00 INR.
Complete Details @ http://admission.marwadiuniversity.ac.in/PublicSpeakingContest/Default.aspx