Khula Aasmaan announces an international art competition on Ramayana for children, young adults and others. Children and young adults are invited to paint characters, incidents and landscapes from the epic Ramayana. Select artworks from this Ramayana art collection will be part of a special edition of pictorial Ramayana ebook apart from other possibilities.
This is a free online international art competition.
Contest start date : 15 August 2020
Contest will close on : 31 December 2020
Age Categories:
Children (5 to 15 years),
College students (16 to 25 years) and
Others (26 years and above with no upper limit)
Contest Theme : The artworks to be submitted for the contest should be related to Ramayana – characters from Ramayana, incidents from Ramayana, landscapes from Ramayana and any other artwork inspired by Ramayana.
The artwork should be one of the following three sizes :
A4 (8.27 x 11.69 inches or 21 x 29.7 centimeters)
A3 (11.69 x 16.53 inches or 29.7 x 42.0 centimeters)
Postcard (3.75 x 5.75 inches or 9.52 x 12.7 centimeters)
For Complete Details, Submissions, Please Check : https://www.indiaart.com/ramayana-art-contest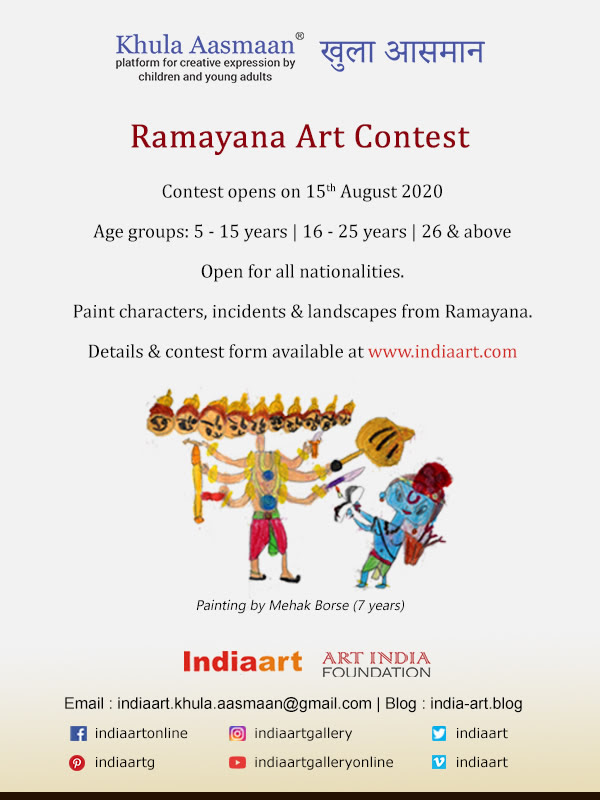 Ramayana International Art Contest 2020 by Khula Aasmaan