Very Happy to present to our visitors, Multifaceted Genius-Child Prodigy – Kiara Mittal.
Kiara Mittal (6years) of Reliance Foundation School got recognized as 'Child Prodigy' by Shri Subhashchandra Goenka (OWNER OF ZEE TV NETWOK) at an event for being a Talent Powerhouse at a very young age and for profoundly possessing an Oratory, Performative and Karate Player skills.
Kiara Mittal began to leave an impact on people around at an 'Infant Age' itself with her 'Multifaceted Personality'.
Kiara made her First Stage Debut when she was 10months old

The youngest in her category, she was awarded First Position.
As an infant she continued to fearlessly depict her performance aura on stage at various events and win accolades making people believe that she is Talent Personified.

She was also invited to walk a ramp for one of the cricket events in the city as a Cricket Personality as a young 2year old budding toddler.
Kiara became a Powerful Stage Performer and a Speaker at the age of 3.
At this toddler age, she gave an impactful speech on 'Mother' on the occasion of Mother's Day at N.M.S.A and won an award for the same.

Kiara, soon began to perform as lead artist for skit/drama shows organised by renowned speech and drama institute.

She performed at famous auditoriums, Vishnudas Bhave Natyagraha, Maratha sahitya mandir theatre and her performance range, stage adaptation, presence of mind got noticed by her parents, teachers, audience and judges.

She got applauded and won award for 'The Best Lead Character' category for several skits like 'Zilda Zebra', 'Ballerina', 'Old is Gold'.

Feather in cap is Kiara's Trinity Group and Solo, Speech and Drama, London's 'Distinction Certificates'.
Kiara excelled in Contemporary/Bollywood dance forms with her superlative dancing at the age of 4.
To her Credentials are Dance face-off wins at the age of four at Maratha Sahitya Mandir Theatre as a Solo Performer.
Kiara,is the Winner of MAX Kids Festival ,2018 ,MUMBAI (Audience Choice) for her flawless dance tribute to Late Sridevi ,judged by celebrity judges one of them being Faisal Khan age category (5 to 10)yrs.

Winning here as the youngest participant in a wide age category made her recognised as Prodigy Child yet again.
Kiara progressed to win a prestigious Beauty Pageant Miss Little Indus's Title , organised by Celebrity Designer Anees Deen at the age of 5.
Kiara's Ramp Walk , Charismatic presence in Indian and Western Outfits, Speech on Empowering Women and Q & A Interaction with celebrity Judges present there was highly appreciated which made her win the title of 'Miss Intelligent' along with the Beauty Pageant title 'Miss Little Indus' in the age group of (5 to 12) years.

Large number of Audience and Judges present there were enthralled by her talent in all areas and they realised that her title win as the youngest contestant in such a wide age range category was because she was Ahead of her Time making her a 'Prodigy Child'.
Kiara's interest in developing Athletic and Karate skills yet again gave her an opportunity to reach a milestone at the age of 5.
With her own will and interest she began her training for Karate at the age of 5 and just within ten odd months of her training she bagged a Gold Medal for her country India in Karate Kumite at an International Karate Championship event held at Malaysia.

Once again, she was the youngest player in her group category.

Soon She became the Youngest Karate Player to record Gold Medal Hat-trick win at International Karate Championship events in a span of just nine months.

She got featured in many leading National and Local newspapers like Navbhart,Navbharat times,Vashi Times,Newsband,Pudhari Marathi,Mumbai Shanghai,Pravasi Sandesh , for bringing Karate Championship laurels to her country.
Karate winning record details are as follows:
1)Indo-Malaysia International Open Karate Championship 2019/5th ,May ,2019/Selangor Darul Ehsan ,Malaysia / Karate Kumite ,1st position ,Gold medal (under 7)
2)Indo-Malaysia International Open Karate Championship 2019/5th ,May ,2019/Selangor Darul Ehsan ,Malaysia / Karate Kata ,2st position ,Silver medal (under 12)
3)2nd Masters Royal Cup ,International /National Karate championship,2019
/ 15th September, 2019 /Andheri Sports Complex ,Mumbai ,India /Karate kata 1st position, Gold Medal, Under7
4)2nd Masters Royal Cup ,International /National Karate championship,2019
/ 15th September, 2019 /Andheri Sports Complex ,Mumbai ,India /Karate kumite 3rd position, Bronze Medal, Under7
5)12th I.I.K.F All India Karate Championship ,2018 ,Swabhimaan Cup /2nd October ,2018 /Priyadarshini sports Complex, Mulund ,mumbai / Karate Kumite 1st position Gold medal ,under 6
6)12th I.I.K.F All India Karate Championship ,2018 ,Swabhimaan Cup /2nd October ,2018 /Priyadarshini sports Complex, Mulund ,mumbai / Karate Kata 3rd position Bronze medal ,under 6
7)Funakoshi cup 2018 ,2nd December 2018,Ambaji Dham Goshala ,kharghar ,Navi mumbai ,/ Karate Kata 3rd position Bronze Medal under 6
8)SHOTOKAN INTERNATIONAL/NATIONAL CUP, 16TH Feb,Andheri sports complex, Mumbai Karate Kata –silver medal,under 6
9) SHOTOKAN INTERNATIONAL/NATIONAL CUP, 16TH feb,Andheri sports complex, Mumbai karate Kumite gold medal,under 6 won in the presence of Japan's Sensi Grand Master Kevin Funakoshi.
She has been Felicitated by AVT, Mumbai for her Sports Achievements and Contribution towards Society.

She is the Youngest Karate Champion to win International Medals and Consecutive Gold Medals three times in a row.Hence once again got recognised as Prodigy Child by her Coach.
Kiara got recognised as Motivational and Inspiring Speaker for supporting Social Causes and Government Programmes at the age of (5-6)years
She is chosen to lead and voice for school exhibitions where she was once given a title of 'Future Leader' by eminent Chief Guests.
Proudly invited as a Guest Speaker, Kiara delivered a powerful speech at the Tree of Hope, Social Cause event held at SivaSwamy Auditorium Fine Arts, Chembur on March 15,2019 organised by Tata Memorial Hospital .

She has given Solo Performances as a Motivational Speaker for School Events like Annual Day, Institute Events like Hall of Fame, Community Events like APL and is still invited as a Guest Speaker and Performer at various occasions.
Kiara, is now an Accomplished Speaker and Performer proudly and specifically supporting 'Government of India Programmes.' at the age of 6.
Continuing to win credentials and recognition for her performative, oratory and karate skills , she now also motivates and inspires ,citizens of India by taking the initiative to promote Government of India's numerous welfare programmes namely,
Swachh Bharat Abhiyan
Mission Indradhanush
Fit India Movement
Beti Padhao ,Beti Bachao,
Women Empowerment.
Kiara Knocking down the Lockdown.
Amidst Corona Virus Outbreak, Kiara Mittal has supported online numerous number of times, Honourable Prime Minister Modiji's Janata Curfew, Lockdown, Seven Mantras,Stay Home,Mask India Movement,Yoga with Modi, through her impactful speech and activity videos.
For her tremendous efforts she is acknowledged online during this lockdown period by no.1 newspaper for kids Robin age newspaper and leading newspaper Children's first newspaper.

Recognised online by Government Embassy of India in Sweden and Ayush ministry for her Yoga contribution video.

Appreciated online by No.1 Indian news channel Aajtak ,ABP news channel and our Government of India's online media platforms for showing her support towards fighting Corona
Kiara Mittal has redefined the term 'Multifaceted Genius' with ecstatic use of her talent as a Performer,Artist,Sportsperson,Speaker,Orator and Social Influencer.
Termed as definite Prodigy Child by eminent personalities, teachers, coaches, community members ,Kiara is now looking forward to excel as a genius that she is in national and international platforms.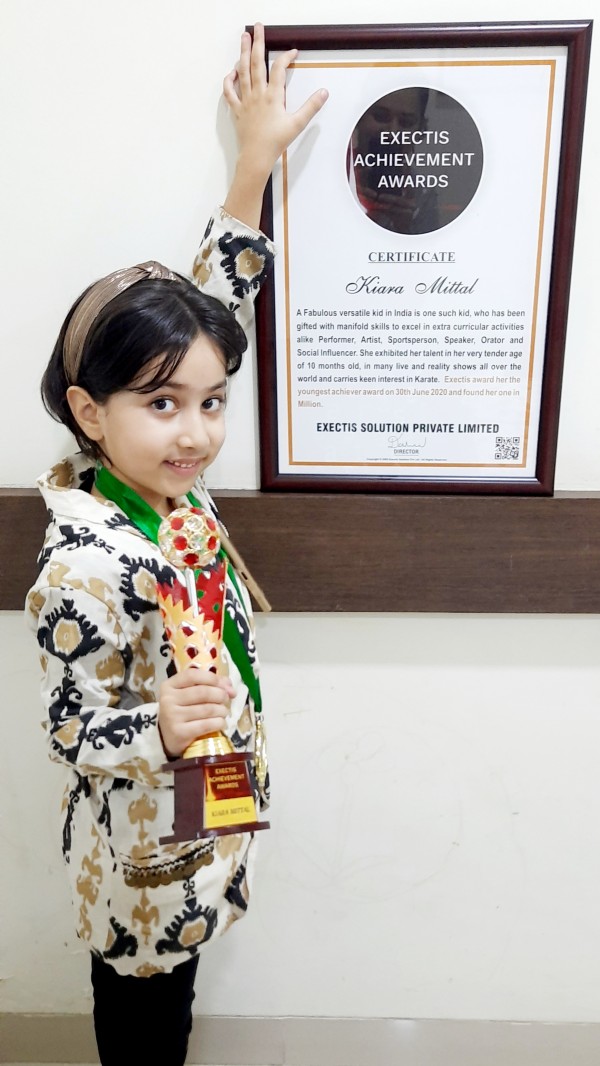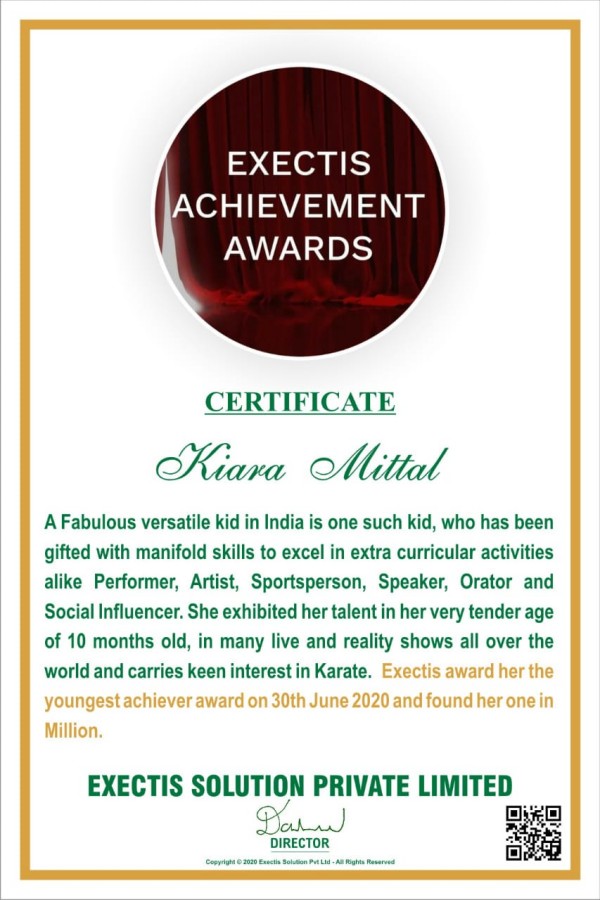 Kiara Mittal, 6 Year Old Multifaceted Genius-Child Prodigy