*Greetings from CANSTOP!*
In the initial phase of Lockdown we were at a panic state, slowly we learnt about the disease and we kept ourselves in safe zone and Now, we have started to adapt to this lock down life as a new Normal.
The lockdown though restricted our physical kinesphere, it had provided a whole new dimension of learning and engaging through webinars and other online video portals.
With this, a new paradigm to keep our kids engage, innovate, creative and to learn, We have come up with an idea of 🏻‍ 🏻‍ *Online Painting Competition for your amazing kids* ️ to occupy themselves in a productive way during this lock down period.
During this pandemic period, researchers identified that *"Smokers are more prone to get affected by Corona virus"*
️ Every year, on 31st of May it's commemorated as *"World No Tobacco Day"* CANSTOP conducts various activities like oral screening camps, sticker campaign, cancer awareness program through visual aids and street plays for the public to create awareness – and for Children it's we conduct colorful and engaging mode of education and awareness through Painting Competition.
*"What we teach, they would become"* ‍ ‍ ‍ ‍ ‍ ‍ ‍ ‍
With Children of today let's create *"Smoke free environment of next generation"*
No wonder, it's gonna be *"Online Painting Competition"*🤩
We will update you about the procedure and time slots post your registration.
For registration contact or send your confirmation message – *9941007688*
‍ ‍ ‍ "Encourage your children and have them engaged to make wonders with colors!!"
*Together We CAN make a difference!!*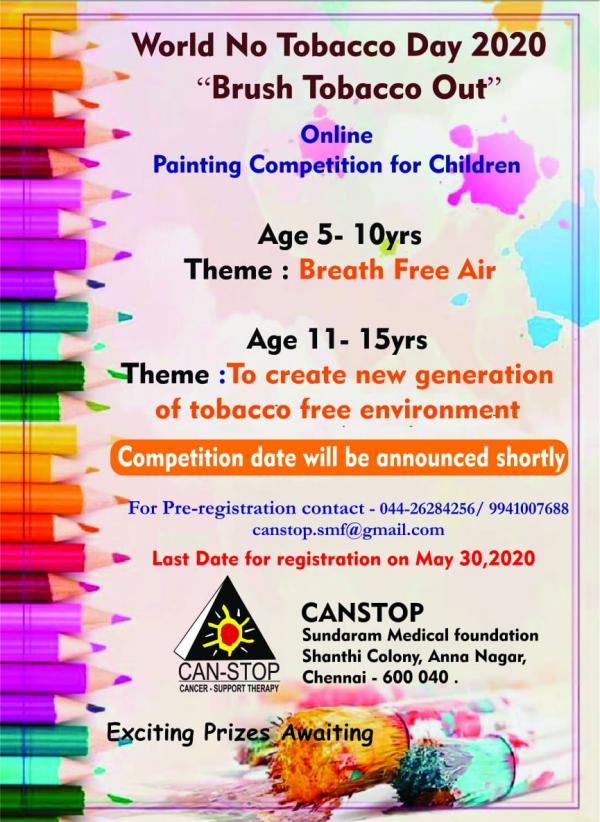 Canstop Online Painting Competition on World No Tobacco Day 2020