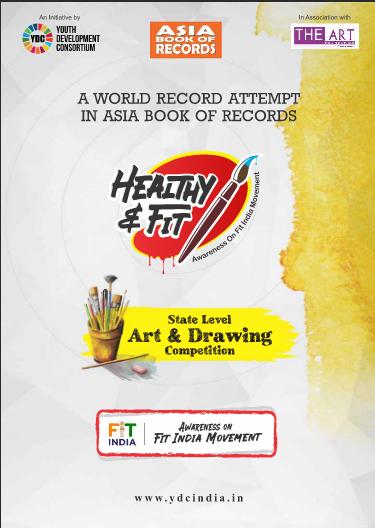 HEALTHY & FIT – State Level Drawing Competition awareness on FIT INDIA MOVEMENT
A World Record Attempt in ASIA BOOK OF RECORDS
The State Level Art & Drawing Competition in the Title of "HEALTHY & FIT" to create awareness on FIT INDIA MOVEMENT among the school understudies crosswise over Tamil Nadu, An Initiative by Youth Improvement Consortium to endeavor the WORLD RECORD in ASIA BOOK OF RECORDS, Top Drawings will be granted with TROPHY MEDAL & Certificate.
About YDC
Youth Development Consortium (YDC) is a national organization which was created with one goal in mind, Youth empowerment. YDC aims to bring a solution and tackle all the existing issues that hinder the growth and development of Indian youngsters. YDC is creating a platform to build and develop the Youth through leadership activities, Education, Social works and initiatives, Cultural programs, supports and opportunities that foster their assets, build healthy community connections, and strengthen their skills and competencies and create the leaders and change-makers of the future. YDC is leading the wave of change and youth empowerment in India and is doing everything in its power to bring a significant impact on the youth and make the dream of India becoming a superpower a reality.
Fit India Movement
Talking about the initiative, Fit India Movement is a nation-wide movement in India to encourage people to remain healthy and fit by including physical activities and sports in their daily lives. It was launched by Prime Minister of India Shri. Narendra Modi on 29 August 2019, this inter-school art and drawing competition with social awareness playing the main scheme of things. We believe that art is a sole journey from an artist's mind to the heart and has its own language of self-expression. We would like these young artists, the future of our nation to explore their inner selves and sketch some brilliant ideas out around these initiatives. We want this message to reach across all parts of the country.
| | | | |
| --- | --- | --- | --- |
| Categories | Class | Apparatus | |
| SUB JUNIOR | I to III Std | A4 Chart, any Painting Materials | Only Drawing |
| JUNIOR | IV to VI | A4 Chart, any Painting Materials | Only Drawing |
| SENIOR | VII to IX | A3 Chart, any Painting Materials | Only Drawing |
| SUPER SENIOR | X to XII | A3 Chart, any Painting Materials | Drawing with explanation |
Duration for the completion 90 Minutes
Students can draw on their own topic in the theme of HEALTHY & FIT
Student can do the same drawing in Preliminary and Finals too.
Registration Fee: Rs.100/- Per Student
Certificate of Participation will be issued to all the students who are participating in this competition.
Awards & Rewards – Each Category has BOYS & GIRLS
1st Prize – Trophy, Medal, Certificate
2nd Prize – Trophy, Medal, Certificate
3rd Prize – Trophy, Medal, Certificate
Top 25 – Medal, Certificate
Procedure:
Step 1: Individual registration can be done here.
Step 2: For Preliminary round student can be drawn from their place, the drawing sheet must be sent to Project Centre
Step 3: Drawing Sheet must contain Full Name, Category, School Name with Mobile Number
Step 4: The drawing sheets will be validated by Jury committee
Step 5: Result will be announced to the school for final participation.
Step 6: Finals will be held in Chennai.
Step 7: On the Same day, results will be declared and prize distribution will start from 4 pm onward
Note: Participation certificate will be sent to the schools after completion of FINALS.
THE SCHEDULE:
Last date to submit the application – 15th November 2019
Last date to submit the Drawing sheet – 18th Nov 2019
Result Announcement – 20th Nov 2019
Finals @ Chennai – 30th Nov 2019, 10 AM
Prize Distribution – 30th Nov 2019, 3 PM
PROJECT CENTRE
THE CONVENOR
Youth Development Consortium
No 11, C wing, 4th floor,
Parsn Manere, Anna Salai,
Chennai, Tamil Nadu 600006
Mob: 9566166182
Website: http://www.ydcindia.in/drawing/
HEALTHY & FIT State Level Drawing Competition