Workshop on Social Skills & Anger Management.[For LKG to V std students]
Date : 18 June, 2017 (Sunday)
Time : 10.00am to 2.00pm
Registration Fee is 2000/- Kindly register before 17 th June (Saturday)
Snacks and lunch will be provided for all the participants.
It is a workshop for LKG to V std students.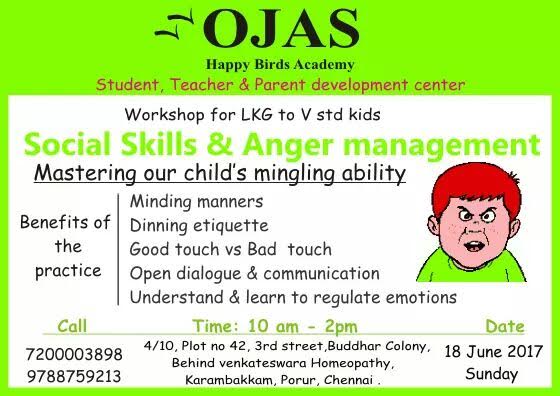 There is no doubt that "social skills" is one of the most important skills a child can
posses. We as parents and teachers show incredible care to the academic growth of the
child.
When comes to personal growth of the child……, here is where we have to become more caring. This half day workshop will help our LITTLE PEOPLE to understand the need of
appropriate social skills and the role of understanding their emotions especially
ANGER.
In this workshop, we teach children to recognize their anger and find out the
necessary tools to carefully administer and transform it effectively which in turn give a path to positive social life.
In the workshop we teach one of the most threatening current issue "GOOD TOUCH VS BAD TOUCH", which revolves around the safety of our kids.
Few benefits of participating in the workshop :
Minding manners
Using magic words
Good touch Vs Bad touch
Creating positive image
Open dialogue & communication
Dining etiquette
Kindly enroll your children for the workshop & see your kids evolving in a better
version as a super kid.
Regards,
Team – Ojas Happy Birds Academy.
To register call : 9788759213 / 7200003898