Arrow Times Carnival is an Online Talent Discovery event that recognizes talents in students across India. The event is online and the registration is completely free. Students can participate from the comforts of their homes and schools and still get national recognition. Arrow Times Carnival is India's biggest ever Online Competition reaching over 10 lakh students. Each talent will be noticed by thousands of people and would be a great recognition for the participating students. Let each student get the recognition they deserve.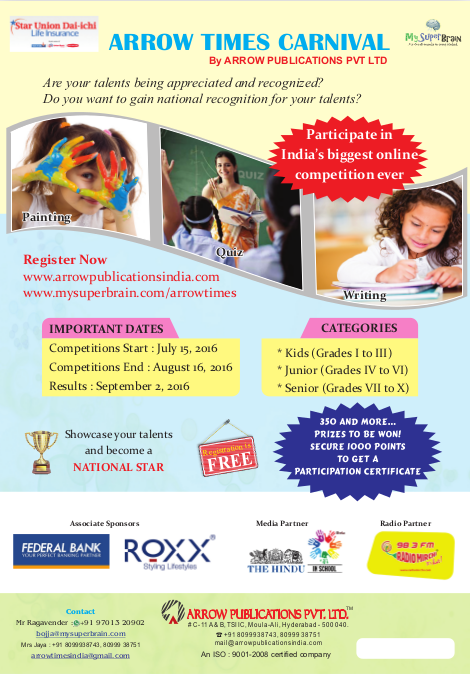 Arrow Times Carnival Details: www.MySuperBrain.com/arrowtimes
There are three events in the Carnival:
Essay Writing
Painting
Quiz
There are three age categories for participation:
Kids (Grades I to III)
Juniors (Grades IV to VI)
Seniors (Grades VII to X)
Last Date for participation is August 16, 2016.
School Page
Each participating school will be given a school page where in all the entries of the students will be showcased. (sample: http://mysuperbrain.com/srichaitanya). It will be a good mouth piece for the school as parents, teachers and administration can see the talents of students and give them the support needed.
Teachers Blog
We also have a Teacher's Blog where teachers from across India can share their ideas, suggestions, feedback, experiences etc. with other teachers. We believe that the collective intellectual capabilities of all the teachers in one place can add a lot of value to each and every teacher and also make their job easier and more productive. Each teacher need not reinvent his/ her own wheel.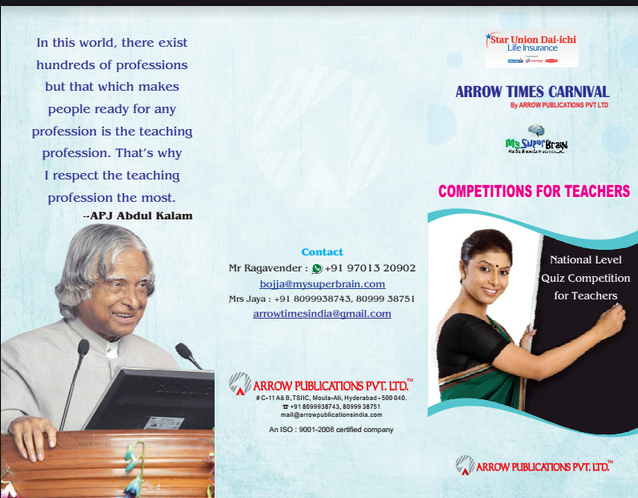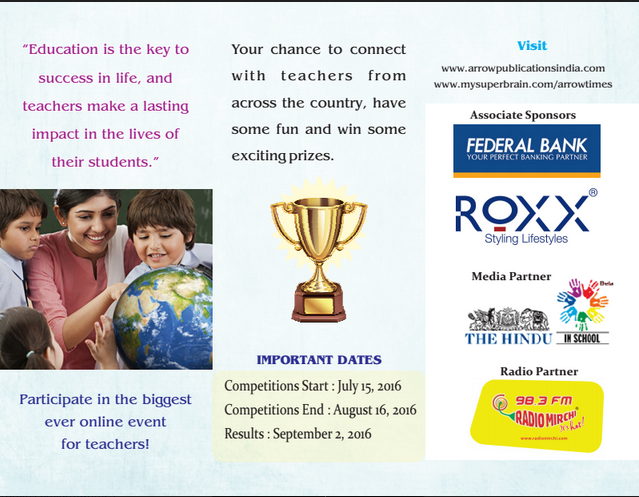 On the occasion of Teacher's Day, we wish to felicitate teachers and are conducting an online quiz for teachers across the country. This is a series of quizzes on general topics. Teachers can participate from anywhere and at anytime.
Link http://mysuperbrain.com/teacher