National Youth Festival 2023 All India Children Art Competition
Award:
National Youth Awards (Cash+Memento) – 25
Best Presentation Award
Chera's – Awards (Medal)
Chola's – Awards (Medal)
Pandiya's – Awards (Medal)
Pallava's – Awards (Medal)
Satavahana – Awards (Medal)
Vishnukundina – Awards (Medal)
Chalukya – Awards (Medal)
Maurya's – Awards (Medal)
Gupta's – Awards (Medal)
Acharya Puraskar Award
For Principal & Art Faculty (for Institutions that send above 50 participants) (Memento)
The Best Institution Awards
(For Institutions that send above 100 participants) (Memento)
Total Awards 500
All participants will be awarded with participation certificates.
RULES AND REGULATIONS:
• The student chooses his / her own topic.
• Categories Pre. KG to I / II to IV / V to VIII / IX to XII
• Any Medium of Color or Black and white.
• Paper Size : Quarter Chart only (11 inch x 14 inch)
◦ Big size not allowed.
• Entry Fee Rs. 100/- for each art work and each child artist can send any number of art work. (If you send more than 50 entries, you can deduct Rs. 10 for each entry).
• The Art work will not be returned.
• Entries (Work and Entry Fee) should reach us on or before 30-04-2023 Through postal / courier / in person.
• M.O. / D.D. is to be sent in favour of Sri Dharshini Kalaikoodam Payable at Chennai or otherwise Send entry fee through bank account.
• Payment Mode
o Google Pay, Paytm 9710303030 (Kalaikoodam)
• The Judgement by the Panel of Experts will be final.
• Result date : 23-05-2023
• Results and Details of the Award function will be posted on "www.sridharshinikalaikoodam.com"
• All disputes are subjected to Chennai Jurisdiction only.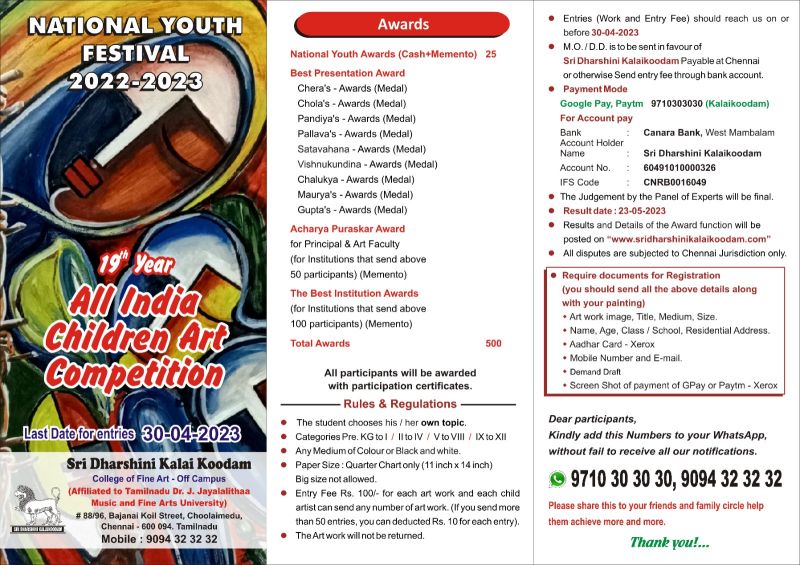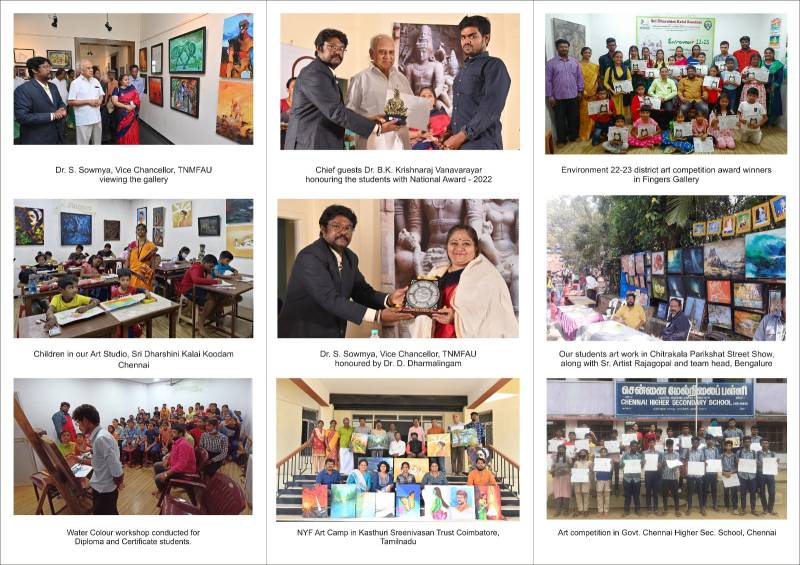 Require documents for Registration
You should send all the details along with your painting (Through postal / courier / in person.)
◦ Original Art work, Title, Medium, Size.
◦ Name, Age, Class / School, Residential Address.
◦ Aadhar Card – Xerox
◦ Mobile Number and E-mail.
◦ Demand Draft
◦ Screen Shot of payment of GPay or Paytm – Xerox
(you should send all the above details along
with your painting (Through postal / courier / in person.)
◦ Original Art work, Title, Medium, Size.
◦ Name, Age, Class / School, Residential Address.
◦ Aadhar Card – Xerox
◦ Mobile Number and E-mail.
◦ Demand Draft
◦ Screen Shot of payment of GPay or Paytm – Xerox
Contact : 9710303030 / 9094323232
Please share this to your friends and family circles help them achieve more and more.
THANK YOU!…
National Youth Festival 2023 All India Children Art Competition