"Meet Arhaan Sai Gourishetty: The Youngest Prodigy in Fluid Arts"
18-month-old Arhaan Sai Gourishetty has made a name for himself in the art world by becoming the youngest artist to create 50 contemporary fluid art paintings using 43 techniques, without the use of a traditional brush. Arhaan's incredible feat has earned him recognition as "Child Prodigy" by the World Book of Records, London, as well as a host of other accolades, including the title of "Prodigy of Fluid Arts" by the Wonder Book of Records and "Youngest Art Prodigy" by the Super Kids Telugu Bookof Records. Arhaan's artistic accomplishments have already earned him 4 international and 2 National records.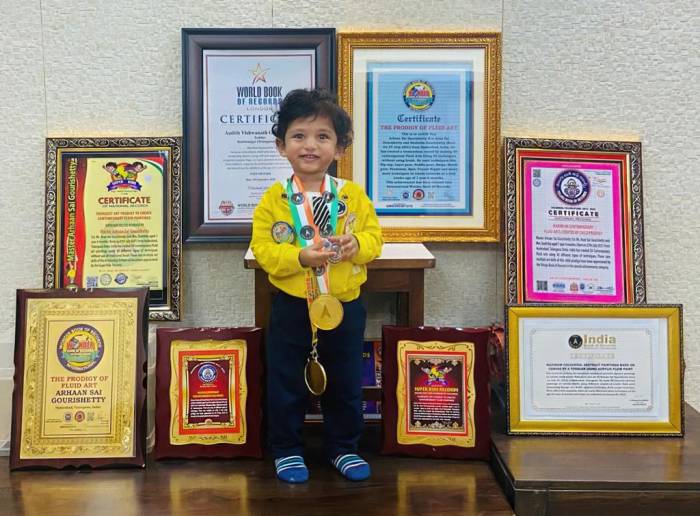 What makes Arhaan's achievement all the more impressive is that he accomplished it all on his own, without any formal instruction on how to use paint tools. His parents simply introduced him to painting as a sensory activity, and Arhaan's natural affinity for creativity and attention to detail did the rest. His works showcase an innate talent and a keen eye for detail, evident in everything from flower arrangements with his grandmother to his fluid art paintings.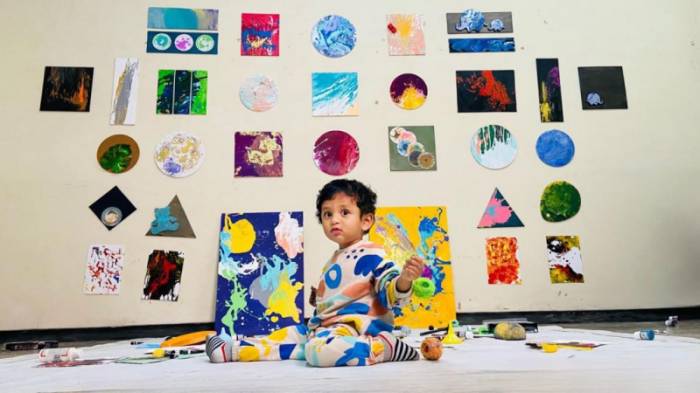 Arhaan's artistic abilities run in the family, with his older brother Aadith Gourishetty also setting a world record for his memory skills at just 21 months in 2020, recognized by the World Book of Records, London. Clearly, the Gourishetty family is gifted with exceptional genes and a nurturing environment.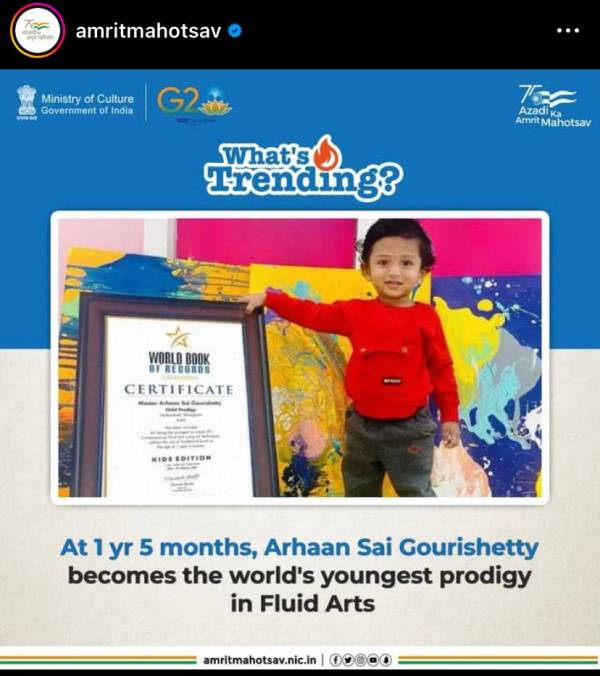 Arhaan's fluid art paintings, created without a traditional brush, showcase his innate talent and creativity. Using 43 techniques, including the innovative use of toy car wheels as tools to create unique textures, Arhaan's works are both aesthetically stunning and emotionally engaging. Viewers are invited to contemplate the incredible skill of this young artist, and to marvel at the vibrant colors and swirling patterns he creates.
The recognition of Arhaan's talent by organizations such as the Asia Book of Records and India Book of Records is a testament to his extraordinary abilities. Arhaan's story is an inspiration to many, and his artistic accomplishments are a testament to the power of nurturing creativity and curiosity in children. It's clear that this young artist's talents will only continue to grow and develop as he matures.
Keep an eye out for Arhaan Sai Gourishetty – the world of art has a bright new star.