HD Events hosted by Hickory Dickory Pre School, K K Nagar Chennai in collaboration with HD Learning Center.
1) Event Date: Dec 10th 2022. Prior Registration is mandatory
2) Event Starts at 09:30 AM.
3) Last Date of Registration: Dec 08th 2022, 6 PM
4) Registration Fee: Rs 150/- per Participant per Event
5) Events will be held offline at the following premises
Hickory Dickory Pre School
Door No 6, Plot No 296,
38th Street, 7th Sector
K K Nagar, Chennai 600 078
Land Mark: Road Opp K K Nagar Post Office
PH: 8925165111, 8925169111, 7338982179
6) Account Details for Payment
Payment is mandatory while registration.
GPAY: 7338982179 (HD Learning Centre)
(Please mention the Participant name in the Remarks section without fail)
7) No spot registration or payment entertained. No refund of Registration fee is entertained. The amount will be refunded only if the organizers cancel the event for any reason.
8) The participant needs to wear school Id card (current year) or a name card (with name, std, phone number) if there is no school Id card
9) Every participant will get a surprise gift and a participation certificate.
10) Top 3 winners for each event per group will be awarded. Consolation Prizes will be based on number of participants in each event. If there are no sufficient number of participants in each group, they may be combined with immediate next group for judgement. The organizers decision is final
11) A Separate WhatsApp group will be created for each Class group. The results will be announced on the same day after 2 PM in respective WhatsApp Groups and prize distribution will be done between 4 to 5 PM.
12) If a child participates in more than one event, the organisers will make sure that he or she is made to participate in all.
13) Judges' decision is final
14) Details of each event is available in the given form https://forms.gle/p8CrY2QSkYJ5AzQq5
Or Click on https://hickorydickory.in/and Click Competition
15) The basic stationery items required for each event has to be brought by the participants.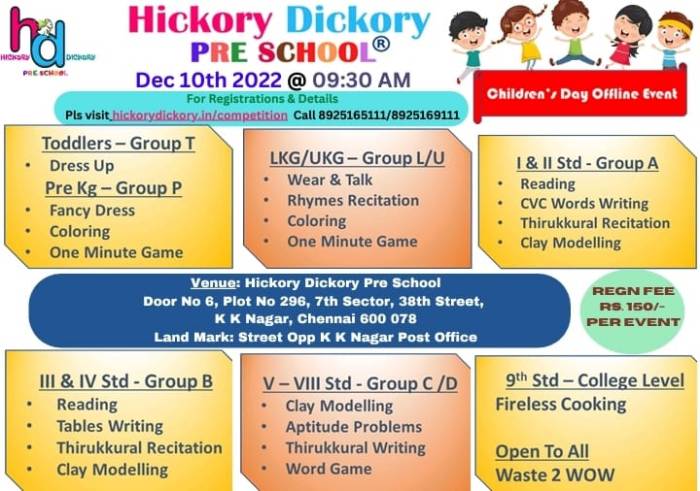 Hickory Dickory Pre School / HD Learning Center Children's Contests on Dec 10th 2022