Agnichsiragukal Thangamagal | Tamilnadu School & College Level Speech Contest 2022.
Title : Oru Naal Muthalvar
Language : Tamil , English
Duration of video: 10 To 15m
Last date of submission:30-07-2022
Mode of submission Whatsapp- 7338833112.
Email- siragukalagni@gmail.com
Eligibility: 10Th, 11th,12th, college students ( female only)
Winners Prizes:
Title winner will be selected from both schools and colleges category.
1. Winner will receive Thangamagal trophy, certificate, medal.
2.Top 10 candidates will receive certificate and medal
3. Participation certificate will be provided as complements to all participants.
More details
Call- 7338833112
Agni Siragukal
it's Women empowerment.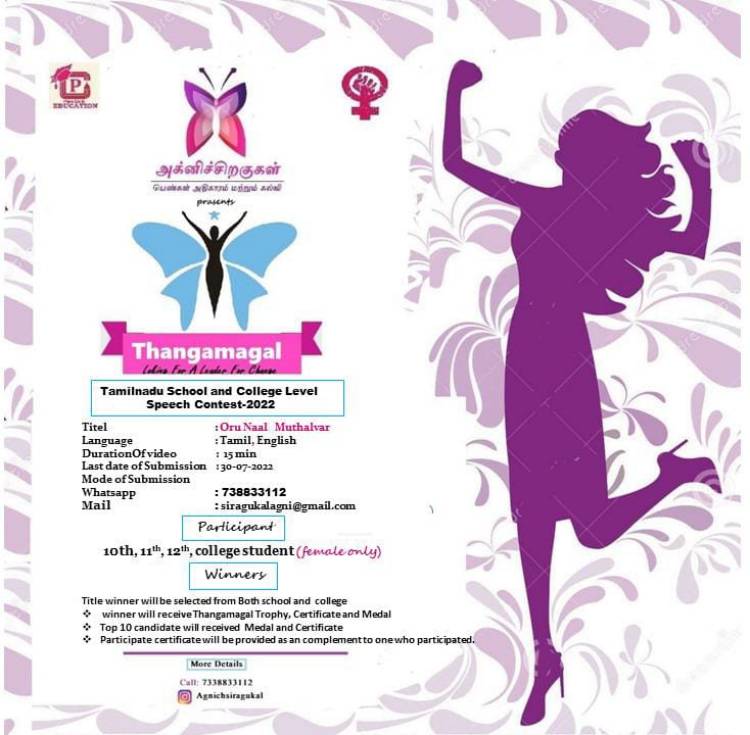 Agnichsiragukal Thangamagal | Tamilnadu School & College Level Speech Contest 2022