All India Arts Talent Contest -2022-23 – Coloring | Drawing, | Essay Writing | Hand Writing.
The Principal / Correspondent / Head Master / Head Mistress
Sub : ALL INDIA ARTS TALENT CONTEST
THE BIG STAGE FOR CHILDREN TO SHOWCASE THEIR UNTAPPED, UNIQUE TALENTS
ALL INDIA ARTS TALENT CONTEST in the fields of Art, Essay & Hand writing has begun with more exciting awards and rewards. We invite students of all the affiliated schools to participate in the contest and get a chance to win many prizes and medals at national level, and bring out the hidden talent of a child by tapping the untapped talent of students which bring their name and institution in limelight.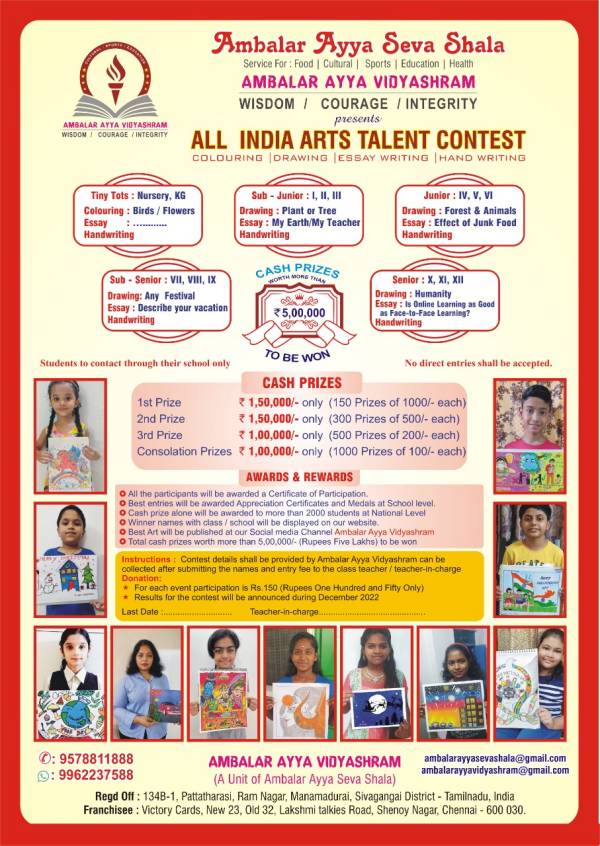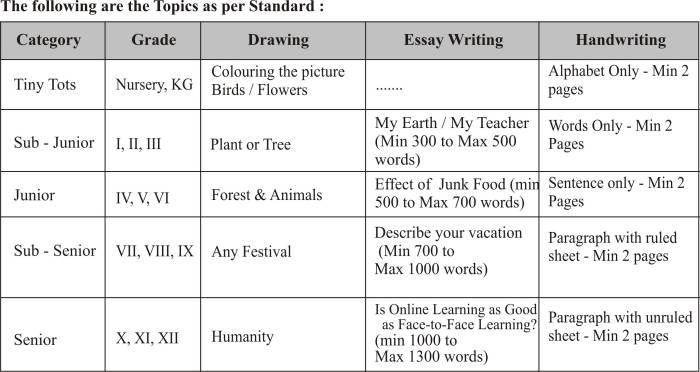 Event Category : Coloring | Drawing, | Essay Writing | Hand Writing
Terms & Conditions:
Essay : Length of essay should not exceed 500 words, hand written by the student, should be clear and legible.
Drawing: Watercolor, pencil color, oil paint, sketch pen or crayon may be used, to be done by the student. (Separate sheet, canvas or any other material may be used if required, size 10 x 15 inches maximum).
– Students who wish to participate in the following contest may through contact their school only.
– No direct entries shall be accepted.
– The entry sheets for the Drawing and Essay to every participant shall be provided by Ambalarayya Vidyashram after submitting entry fee to Teacher-in-Charge from their respective school.
– All submitted materials shall be the property of Ambalarayya Vidyashram, and shall be free to use such material for any legitimate purpose as it may deem fit.
– The Head of the Institution or the Teacher-in-charge should certify the entry as the original work.
– Decision of the judges shall be final and binding.
Awards & Rewards:
All the participants will be awarded Certificate of Appreciation.
Best entries from each division will be awarded Merit Certificates and Medals at School level.
Winners' names with class / school will be displayed on our website.
Best Art at National Level shall be selected for Yearly Pocket Calendar for promotion.
Talent recognition opportunity for the students in the National Level Contest.
Entry Fees: Rs. 150/- ( Rupees One Hundred Fifty Only ) for one field of contest
Rs. 300/-(Rupees Three Hundred Only) for three events (Art, Hand & Essay)
Result: Results for the contest will be announced on 15th December 2022
Communication Address : Victory Cards, New 23 Old 32, Lakshmi talkies Road, Shenoy Nagar, Ch – 30
Call Us : 9578811888 WhatsApp : 9962237588
E-mail : ambalarayyavidyashram@gmail.com, ambalarayyavidyashram@yahoo.com,
AMBALARAYYA VIDYASHRAM
WISDOM / COURAGE / INTEGRITY
V KARISALKKULAM MANAMADURAI
SIVAGANGAI DISTRICT TAMIL NADU INDIA
9578811888 / 9962237588