Be an All-Rounder
As Championship Shows
The Holistic Attachment
And Approach in a Specific Field..
But An All-Rounder Has Many
Ways to go Through and Go-on…
Talent Academy
International All Rounder Competition
Theme Kids Choice
Age of Children 3-16 years
Date 20:01:2022
Kids Can Participate in Single event too.
Winner Will receive All rounder Memento Shield and E certificate
Participants will receive All rounder Participants Medal and E certificate
Registration Fee for Single event 110
Events list
Drawing/Colouring/Painting
Art and craft/Best out of Waste
Speech/Essay/Handwriting
Personal Talent/Recitation/Puzzle solving/ Singing/Dance
Rules for International All Rounder Championship Competition
To Win this International championship Award kids have to Participate in 5 Events.
All the 5 events have to be in different Zonal.
No repeated events are allowed.
Images/Videos of the event is Necessary
Maximum video limit is Upto 12 mins.
International Championship Prize Details
Winner Prize
All Rounder Championship Memento
All Rounder Championship Cup
All Rounder Championship Medal
Certificate
Participation Prize
All Rounder Championship Participation Memento
All Rounder Championship Participation Medal
E certificate
For any questions and Registration please feel free to Contact us on 8807148411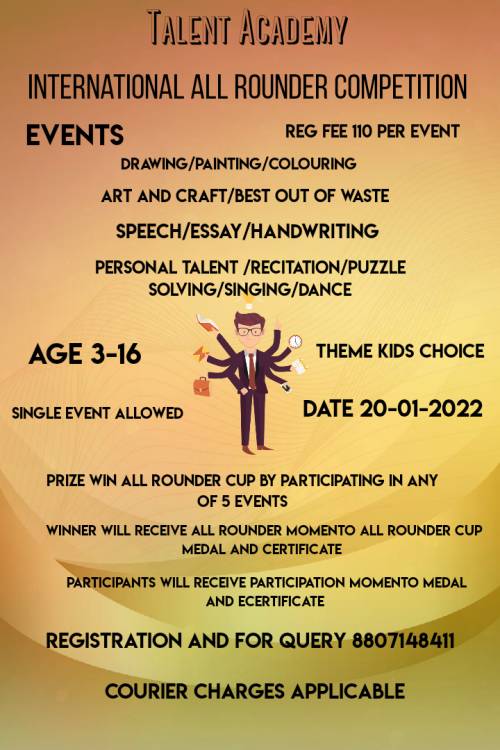 Talent Academy All Rounder Competition January 2022