Hello Dear Parents,
Welcome to the "Disney Stars" Online competition world. It is great platform to show your Talent. .

"Disney Stars" Presenting National Level "Republic day " Special Online competition-2021
Open theme.
Group A(Nursery, L. K. G, U. k. g)
Group B( 1st, 2nd, 3rd, 4th Classes)
Group C(5th, 6th, 7th, 8th Classes)
Group D(9th, 10th, 11th, 12th Classes)
(Participate in any Number of events 160/event) &(Hidden talent 500/)
Participate in 5 events & win in any 2 events will receive "Smart kid" trophy with photo printed + 4 medals+ 5 E-Certificates
Participate in 2 events and win will receive trophy +medal + E-Certificates
Hidden Talent Award (send any talents of your kid video)
Hidden Talent winners Receive kid's photo printed trophy
Winners Awarded with special medal+E-Certificate
Participants Awarded with medal +E-Certificate
Courier Charges extra.
Send clear photos& videos (1to 2min) to my what's number (9066283763)
Payment: gapy, phone pay, paytm available
Last date for Registration &submission 10-02-2022
Note: Amount paid is not refundable.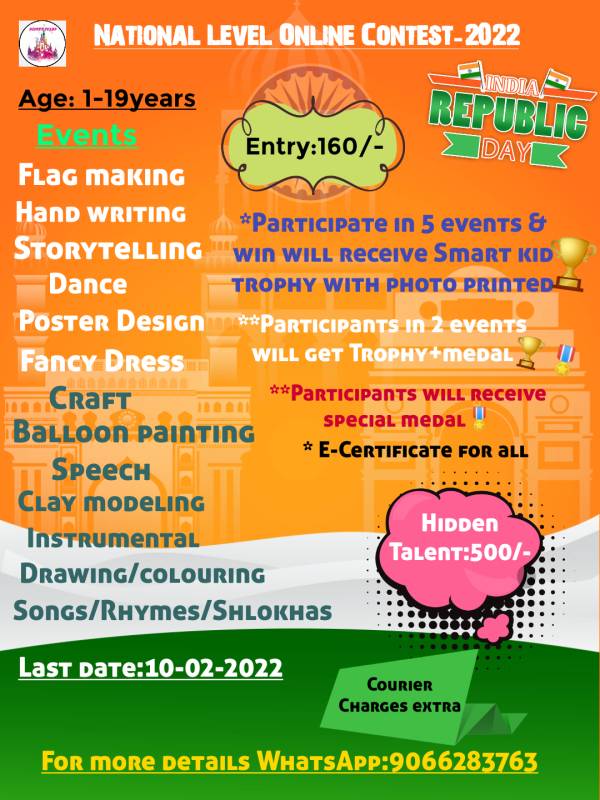 Disney Stars National Level "Republic Day Special Online Competition-2021