Dear Participant,
NKM Vision Foundation,
Presents
All India Viagai Kids Competition,
Events :
Coloring,
Drawing,
Essay writing,
Hand writing,
Story writing,
Fancy dress,
Personal talent,
Arts & crafts,
Thiriukkural,
Modeling,
Oratory,
Rhymes,
Story telling,
Sloka telling,
Dance,
Singing,
Musical instruments,
Fashion show,
Photography,
Selfie,
Acting,
Decoration contest,
Cooking contest,
Theme : Christmas or Open theme
Age : All Age Category (KG to UG PG )
Date : for Reg – 05/01/2022 ( Reg Ends)
Date : for sub – 15/01/2022 ( Sub Last )
Date : for Results – 18/01/2022
venue : On-Line Only
Reg Fee : Rs.250/- Per Event
1.The competition is conducted all over India, any ( City, District, State, Country,)
2. Certificate & Medal will be given for all participants
3. Picture/Video of the event to be sent through whatsup 9962295688
Courier charges are applicable
4. Competition is on-line
5. Payment can be done through bank account (net banking). Or Gpay Or PHONE PE
6.Theme of the event is the respective festival. Video timings should be between 1-3 mins
7.Judges decision is final.
For more details and enquiries
Send your entries at :
WhatsApp : 9962295688
E-Mail : nakshatraculturals@gmail.com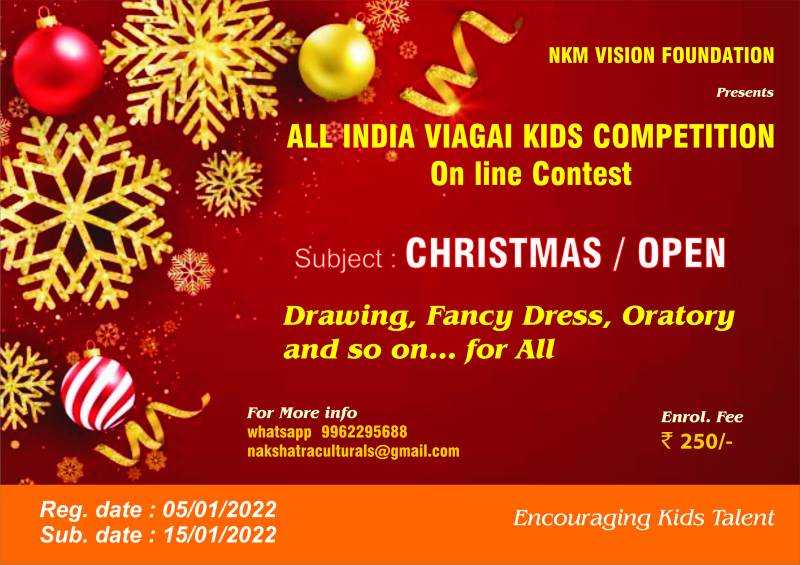 NKM Vision Foundation All India Viagai Kids Competition