Wiser Academy Special Golden Events…..
As we are Celebrating Our Wiser Academy Anniversary We are Conducting Special Golden Event…
Age 3-14
Per Event Reg Fee 100
Last Date 01-10-2021
Special Golden Events
Drawing
Dance
Singing
Art and Craft
Fashion Walk
Speech
Essay
Recitation
Personal Talent anything Related to their Talent….
Note For all events Theme is open and videos will be Accepted Minimum of 60 seconds….
Single event Winner Will receive Winning Medal and Ecertificate
Participants Will receive Participation Medal and E certificate
Kids Have to Participate 4 events For Multitalent Category
Multitalent category Prize Trophy For Participation….
Kids have to Participate 5 events for Special Talent Category
Special Talent category Prize Trophy Medal and E certificate..
Multitalent and Special Talent Winners will receive Big Trophy and Certificate…
All Rounder with Special Talent (For 1 Children) Winner will receive Gold Coin ( Special Golden Event Prize)
Courier Charges Applicable
Note :Call Through Whatsapp only…..
Registration only through Whatsapp 8870147460.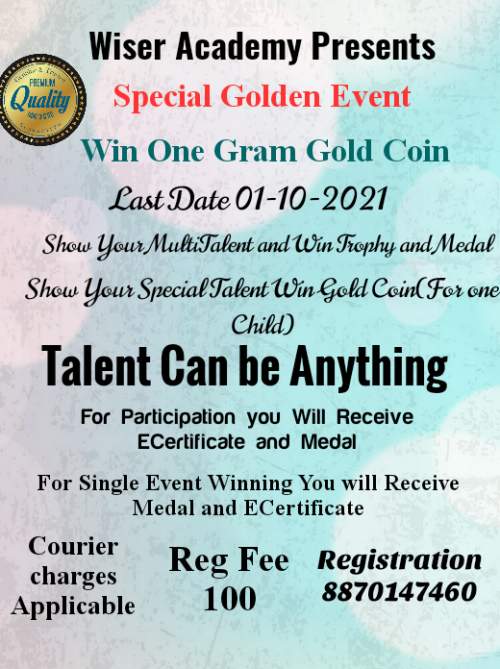 Wiser Academy Golden Events 2021