Fairy kids proudly Presents National Level Online Raksha Bandhan / Janmastami Contest 2021.
It is a Great platform to Express your kids Unique Talents and win Prizes
Only WhatsApp @ 9959994430 for Registration/ Queries
Payment :9959994430/gpay/phone pay/ paytm ( Do the payment with Participant Name)
After payment only Fill the below Form :
https://forms.gle/epvXRDQDowuAu6WD6
CATEGORY A: Nursery,L.K.G,U.K.G
CATEGORY B: 1st,2nd,3rd,4thGrade
CATEGORY C: 5th,6th,7th,8th Grade
CATEGORY D: 9th,10th,11th,12 Grade
Reg Fee:Rs.150/- Per Event
Last Registration & Submission: 5th September 2021
Following are the Events :
Colouring : (CATEGORY- A only ) Outline Sheet will be shared
Drawing( CATEGORY – All): Related to Rakhi festival/ Janmashtami .
Fancy Dress : (Category – All) Related to Rakhi festival(Traditional)/ Janmashtami ( krishna/ Radha).
Rhymes or poem: All types Accepted (Category -All)
Craft/Greeting Card : Related to Rakhi festival/ Janmashtami . Category- All)
Slokas :(Category-All): Minimum 1 to 3 Slokas should tell by the Child.
Dance:Classical, Western,folk Or Any other Accepted ( Category- All)
Singing: Sing Any song ( Category – All)
Yoga: Any Type Accepted No specific theme(Category-All)
Story telling :Moral stories or Any Other Types Accepted( Category – All)
Pot Decoration :Related Janmashtami .Decorate/ Make the pot with anything ( Category – All)
Flute Decoration:Related to Janmashtami .( Category – All).
Best Out of waste:Any type Accepted ,No Specific Theme
(Category – All)
Rangoli: Make a colourful Rangoli using anything.(Category- All)Related to Rakhi festival/ Janmashtami / Any other.
Handwriting: Content will be shared After Registation ( Category – All)
Rakhi Making:Make a Rakhi by using anything (Category -All)
Clay Modeling: Make anything using clay(Category -All)
Hand Print/Foot print:Make a Colourful Hand/ Foot Print by Using Any colour and Decorate or Make Something with that print( Category A& B)
Little Chef/ Fireless Cooking:Any kind of Special Dish Accepted and Flameless Cooking Also Accepted( Category- All)
Please Check the Rules Carefully:
Participants can get the Participation certificate and Medal.(If not Win)
3 Winners will be selected in Each Category.
All the winners will get Winner Medal and Winner Certificate.
Star of the content Award:Participating/ Winning in 4 activities will Receive the Special Customized Trophy + 4 Medals + 4 certificates.
Hidden Talent :Send Any kind of Hidden/ Special Talent Of your Child Then Win.
Registration fee for Hidden Talent is 490/-
Hidden Talent Winner can get , Hidden Talent Digital Certificate+Special Customized Trophy +Medal
Clear Images and videos Only 1 to 3 mints of your work has to be submitted for any of the above mentioned Topics through Whatsapp.
Amount paid is Non Refundable.
Courier Charges Applicable.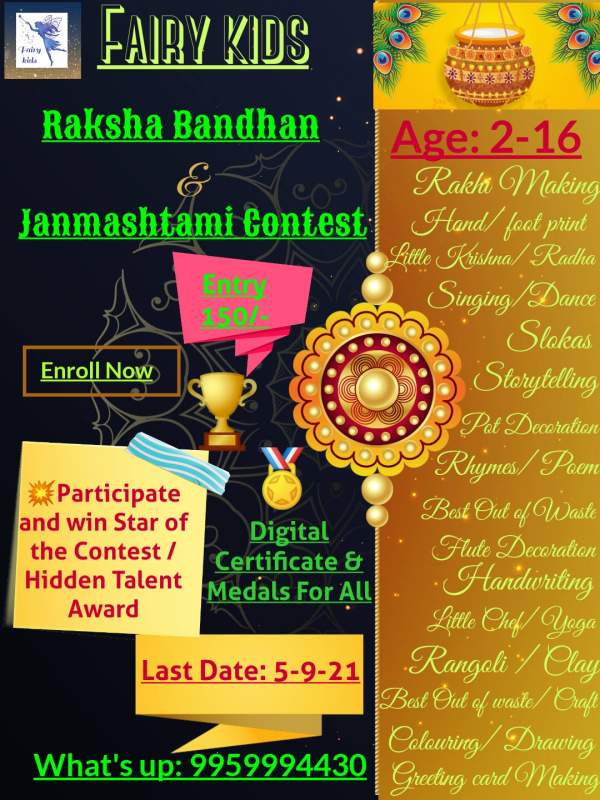 Fairy Kids National Level Online Raksha Bandhan / Janmastami Contest 2021