Hey everyone,
One good news for you all!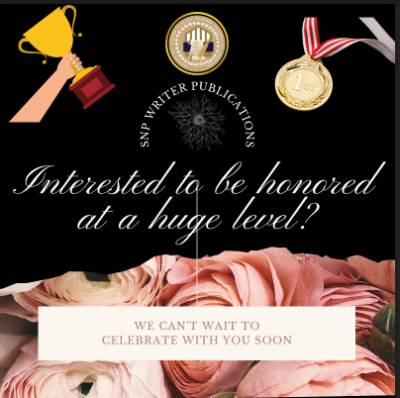 Did you participate in the Award of Pre-Eminence Season 1? If yes, our team would like to thank you for being such an amazing part because without the participants, our award wouldn't have been so successful.
Now, Many of you were disappointed as you couldn't be the winner.. but to fulfill your dreams and give your talent a new shine, we have come up with another season.
And if you weren't a part of the award of pre-eminence, its okay as you can also get a chance to be a part of this award…
Participate now and get a chance to win many prizes… Get ready…
SNP Writer Publication presents an opportunity for all enthusiasts to be honored…
Want to know how? Through Award of Pre Eminence Season 2. We have come up with this amazing award for all the talents all over the world.
It will provide you a chance to get many opportunities to be featured and receive merchandise from us.
Very simple rules and regulations with lots of beautiful prizes!!
What can you achieve?
– Gold Trophy
-Gold Shield
-Gold Medals
-Laminated Certificate
-Branded Pen
-Mugs
-Flyer
-Social Media Features
-Get Published in Book and Magazines
-Paid Promotions
and what not….
Visit https://drive.google.com/file/d/1LxX_-ZGCYIvgjeQCGnIT6aj9cxFcC9Vi/view?usp=sharing to know more and everything how to be a part..
Links to register are provided there only..
But if you cannot find it, why worry? Visit https://linktr.ee/snp_writer6627 to get the registration links successfully…
What are you waiting for? Go and register now… Deadline is near !
For any queries, don't hesitate to contact us on snpwriter6627@gmail.com
Hoping for a wonderful response.