Hello Guys, this is Phoenix Academy. Currently, we are conducting online competitions, which include all extracurricular activities. You can follow us on YouTube, Telegram, and Instagram & Facebook. These events are run on the National Level. Participants from all over India can participate.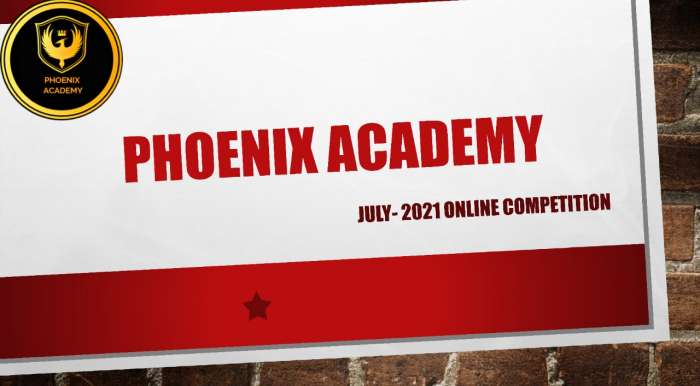 Age Categories:
Tiny [2-3 years]
Sub-Junior [4-6 years]
Junior [7-10 years]
Senior [11-14 years]
Super Senior [15-18years]
Normal Events Entry Fee 200/-
In Normal Events, all participants will receive participation certificates and winners will get medals and certificates.
*Last Date For Registration 28/07/2021
For more details contact us
Contact Details:
C.Jayachitra
Phoenix Academy,
10, Lakshmipuram,
Gandhi Nagar, katpadi,
Vellore – 632006.
Contact: 9360245907, 8778983980
Whatsapp Number: 9360245907, 8778983980