Hello Parents,
KIDOOS Presents World Creativity Day Special
" EXPLORE UR CREATIVITY"
NO AGE LIMIT, No THEME
CATEGORY A: Nursery,L.K.G,U.K.G
CATEGORY B:1st,2nd,3rd Grade
CATEGORY C:4th, 5th, 6th Grade
CATEGORY D: 7th, 8th, 9th, 10th Grade
SPECIAL CATEGORY: Mom/ Dad, college students, Grand parents
Reg Fee:Rs.200/- Per Event
Registration Ends : 9-5-2021
Last Submission : 9-5-2021
Results : 15-5-2021
Following are the Events:
Singing
Colouring/Drawing
Yoga
Clay Modelling
Origami
Dance
Rhymes/Slokas
Dress Up Show
Speech
Storytelling
Handwriting
Acting
Seed Collection
Craft
All Participants will be awarded with Participation Medal & e-certificate
*Participation of 3 Events , Winning in one event will get Trophy & 2 participation medals & E-Certificates
Winning in 2 events will get one trophy + winner medal + participation medal & E-Certificates
Winning in 3 events will get one trophy + memento+ winner medal & E-Certificates
STAR PERFORMER AWARD
Participated in 8 events winning in 5 events will get "STAR PERFORMER AWARD TROPHY"
NO LIMIT FOR TROPHIES, POP YOUR HIDDEN TALENT
Per Registration : Rs.500/-
TROPHY / MEMENTO( Kid Name Printed ) + BEST PERFORMER MEDAL + HIDDEN TALENTED e-Certificate.
Amount paid is Non Refundable or Non Adjustable.
For more details: Whatsapp 9515650093
Courier Charges Applicable.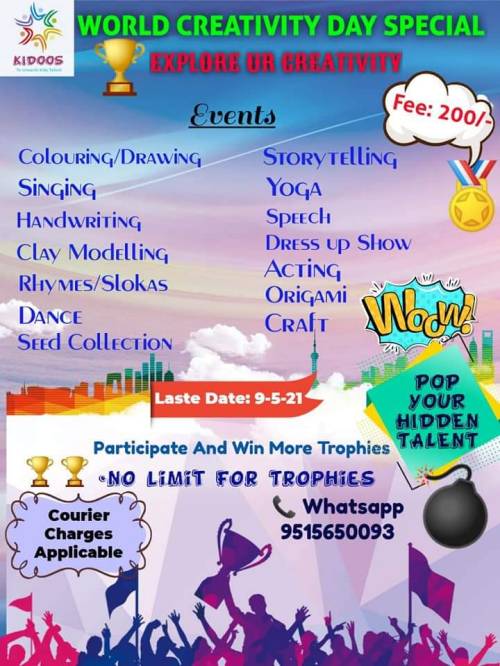 World Creativity Day Special EXPLORE YOUR CREATIVITY