On the occasion of World Sparrow Day, Wisdom Launch has launched a "Save the Sparrow Campaign 2021" involving children of age group 2 to 17 years. This is our new initiative to spread awareness on conservation of sparrows under two categories. Sparrows feed on the grains, insects, the food at home, mosquito eggs, etc. The sparrows help us to keep our environment clean and healthy too. Involving children in this campaign, as children have a natural curiosity and love for nature. This will cultivate a habit of bird feeding, which can last a lifetime and help in conserving the birds. So, the future generation can enjoy our natural world and the incredible bird species.
Category 1: Drawing Competition (Age 3 to 14 years)
Theme – Conservation of Sparrows
2. Send a clearly captured image of your drawing and participant holding his/her drawing, with registered Email ID and Participant's Name to our email – events@wisdomlaunch.in
3. Language can be English.
4. Entries should be done by children.
5. Image(s) must be original. However, there must be no border(s), text(s), logo(s), copyright marks, identifying marks, or any other visible references and/or marks on the video(s) or image(s), and does not affect the authenticity and/or genuineness of the image(s).
6. The decision of the judging panel will be final.
Due for Submission of Drawing Competition: March 31, 2021 11:59 PM IST
ℹ Note: All the participants of this category (Drawing Competition) will be awarded Digital Certificate.
Category 2: Sparrow Conservation (Age 2 to 17 years)
2. Label your food & water feeder / nesting box with your Name. This will be used to identify your offerings from our featured posts.
3. Put your offerings in a place where birds have a good vantage point.
4. Capture few photographs of your offerings and post it in your profile with your own caption.
5. Don't forget to tag us using '@' and use the following hash tags in your post.
#wisdomlaunch #wisdomlaunchedu #savethesparrowcampaign2021 #ilovesparrows #WorldSparrowDay
6. Tag at-least two of your friends so that you can spread awareness about "Save the Sparrows Campaign 2021".
7. Make sure the visibility of your post is "Public".
8. Send us your post's link with your registered Email ID to our email – events@wisdomlaunch.in
Your contribution(s) for category 2 as follows (Choose one or two or all as per your registration):
1. You can choose any of the methods to make a bird feeder that you feel easy and fun using some waste materials from your house such as plastic bottles, orange peel, coconut shell, toilet paper roll etc.,. Parents can also help their children to make the feeders if required.
2. Sparrows drink lots of water, ensure there is a water source close to their food and keep it topped up with clean, fresh water so that sparrows can land, drink and even partially bathe in safety.
3. Encourage these charming birds to call your house a home by installing a nesting box in a sheltered area, out of direct sunlight and high winds. You are more likely to attract lots of sparrows to nest and raise their young.
If you are short on time or you can able to afford a few bucks for birds or give nature at home where you live, then you can also buy food & water feeder and nesting box to participate in this campaign.
ℹ Note: All the participants of this category (Sparrow Conservation) will be awarded Digital Certificate.
This is a year long campaign and you will be able to enjoy nature all-year-round. With a little time and effort, it is possible to get sparrows and their lovely song back to your place. Attract sparrows to your offering(s) and capture that amazing mind-refreshing moment and send it to our email – events@wisdomlaunch.in to receive a Campaign's Achievement Certificate.
♀We request schools and volunteers to educate children on their responsibility towards the birds and nature, and also offers them the opportunity to actually be involved in this campaign. If you are a school / volunteer, interested in joining this Campaign, please write to us at events@wisdomlaunch.in
Contact:
Email – events@wisdomlaunch.in
Support Team – https://m.me/WisdomLaunchEdu
WhatsApp – https://wa.me/917397459625
Official Website – https://wisdomlaunch.in/
Official Page – https://www.facebook.com/WisdomLaunchEdu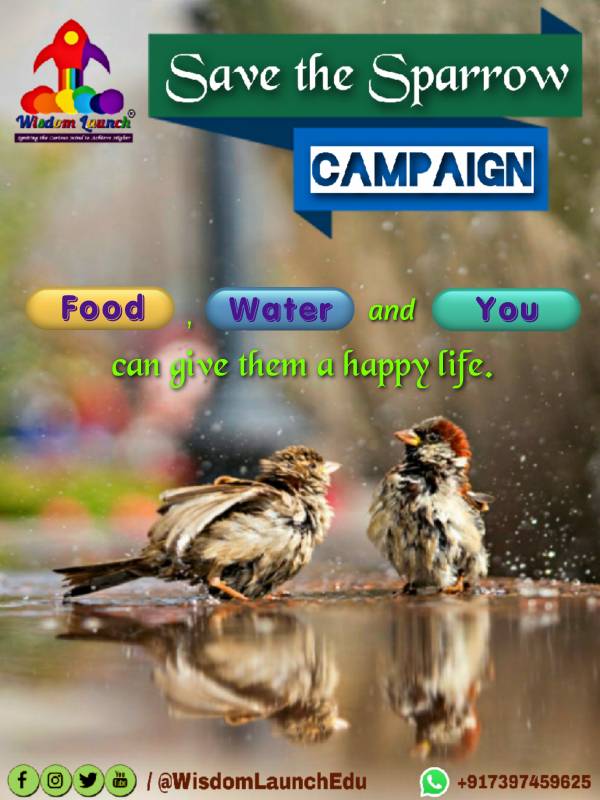 Wisdom Launch's Save the Sparrow Campaign 2021 Competitions