The WhizzKids HOLI EXTRAVAGANZA (Age group – 3 to 10 years).
Activities:
• Art/Craft
• Dance
• Singing
• Speak a few lines and much more…
Theme : COLOURFUL AND VIBRANT HOLI
Send a video / picture of your child performing the activity by 28.03.2021
It gives us immense pleasure to invite you for the celebration.
Please find enclosed the details and registration form.
REGISTRATION FORM : https://forms.gle/ob8bbBZfGRn1sEcA9
We look forward to your enthusiastic and active participation.
E-certificates will be provided to all the participants.
Separate E-certificates for each activity.
Registration Fee –
• ₹125 for 1 activity
• ₹250 for 2 activities
• ₹300 for 3 activities
• ₹425 for 4 activities
• ₹500 for 5 activities
Send your entries at :
• WhatsApp: +91 7973929527
• E-mail: thewhizzkids.20@gmail.com
• Facebook: @whizzkids.20
• Instagram: @the_whizzkids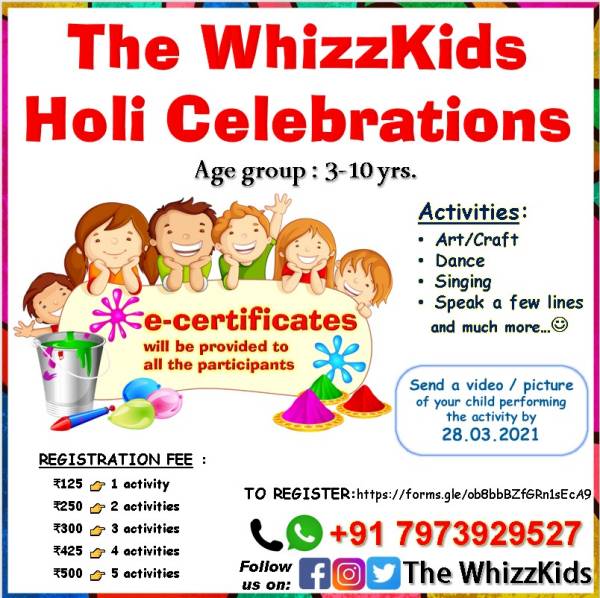 The WhizzKids HOLI EXTRAVAGANZA