Online Handwriting Contest – (March , 2021).
Use the respective age group's link for more details as per given in https://www.facebook.com/101529708278951/posts/235058241592763/ or https://youtu.be/47AwfQeFAs8 Passage to be written requirements are provided in respective age group's link as per given in the above links .
Mention participant's name and age in the written work.
Last date for registration and submission is March 21 , 2021 .
Writing Style : Any form is allowed . Completely based on student's wish . But when selected a specific format please do guide the child to stick to that selected format of writing alone .
Judging criteria :-
~ Smoothness, grace, and flow of the writing .
~ Competence.
~ Consistency.
~ Neatness.
Trace & Digital working is not allowed .
Verification video :-
A short video footage of the participant writing a part of their written work.
It can be a fast forwarded continuous video if necessary .
Results will be declared on or before April 1 , 2021 in our YouTube channel .
Participation & Winner E-Certificates will be sent to your registered email addresses.
Winners will be awarded with exciting cash prizes and e-certificate .
Cheers, The Art Dream Express Studio team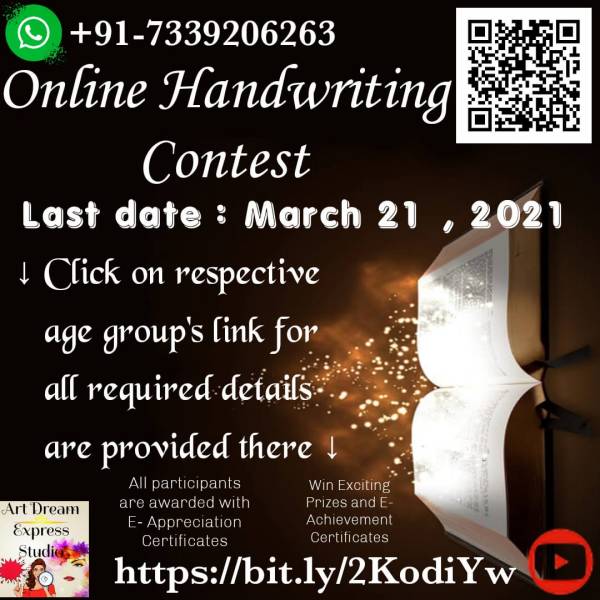 Online Handwriting Contest | March, 2021