Nino App One Year Lockdown Contest.
This March we will be completing one year of nationwide lockdown. Upload any artwork of your child(till class 10) which represents or marks one year of nationwide lockdown or what you have done/learnt in this lockdown period. You can upload anything, but it must be related to lockdown. Be as creative as you can.
-Last date: 31 March 2021
-Result announcement: 07 April 2021
-Distribution of prize money: 08 April 2021
Entry Fee: ZERO
4. Prizes: ₹.1000 for 1st, ₹.500 each for 2nd and 3rd(to be paid directly to the winners UPI id)
Note: e-certificate will be given to every participant.
5. How to participate?
Step1: Download "NinosApp – Chotu Talent App" from Google Play Store.
Step 2: Click on the + Button to upload the artwork.
Step 3: Use #OneYearLockdown in the tags field. (If you post anything related to lockdown and forget to use the tag, we'll consider it for contest. Don't worry. But try not to forget tags)
For queries: write to us theninosapp@gmail.com, info@theninosapp.in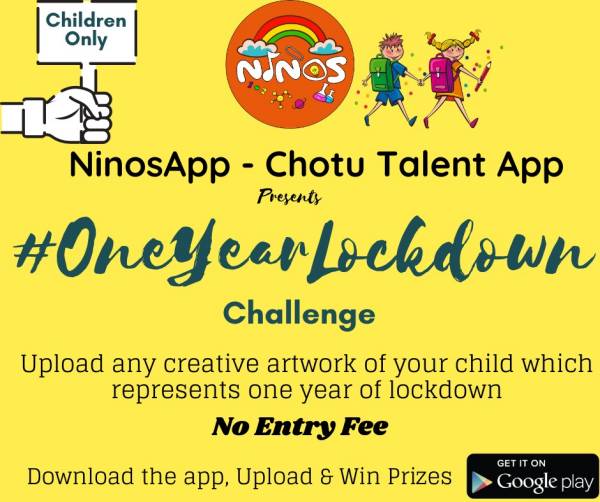 Nino App One Year Lockdown Contest | Free Entry