Hello Everyone
Happy to invite you to,the VIBHACONTEST
INTERNATIONAL SPECIAL FOOD CONTEST ON-LINE COMPETITION
THEME : (TOPIC) HUMAN ORGAN PARTS – HEART
THEME : (SPECIAL TOPIC) VADAI MAKING ( MEDU VADA & ANY )
HUMAN ORGANS / PARTS is the Theme
The human body is the structure of a human being. It is composed of many different types of cells that together create tissues and subsequently organ systems. They ensure homeostasis and the viability of the human body. It comprises a head, neck, trunk (which includes the thorax and abdomen), arms and hands, legs and feet. The study of the human body involves anatomy, physiology, histology and embryology. The body varies anatomically in known ways. Physiology focuses on the systems and organs of the human body and their functions. Many systems and mechanisms interact in order to maintain homeostasis, with safe levels of substances such as sugar and oxygen in the blood.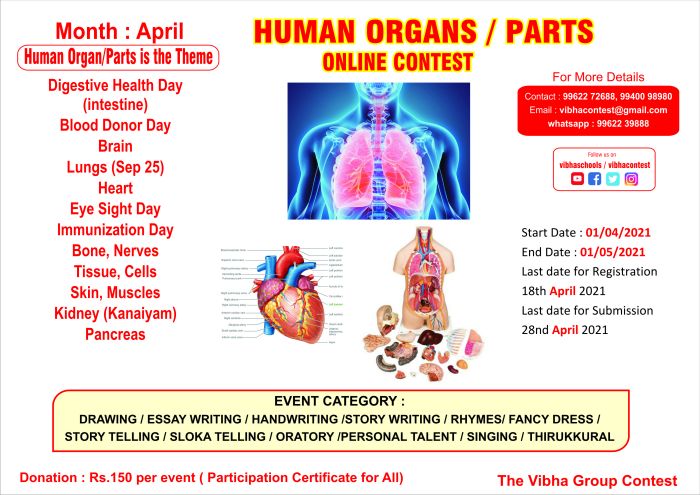 THEME : (SPECIAL TOPIC) VADAI MAKING ( MEDU VADA & ANY )
"Medu" is the Tamil word for "soft"; "medu vada" thus literally means "soft fritter" The dish is often mentioned simply as "vada" on menus.
Vada come from an ancient dish called vataka. an ancientDravidian word for fermented lentil paste fritters. While the dish is now known in India by its changed name, which is vada, its ancient original name is still preserved in Nepal. Sanskritist Gautam V Vajracharya suggests that some ancientSouth Asian cultures, including some Vedic and pre-Vedic indigenous customs, managed to survive in Nepal much more meaningfully than other parts of South Asia, which may also hold true for some culinary traditions, including the name of traditional foods.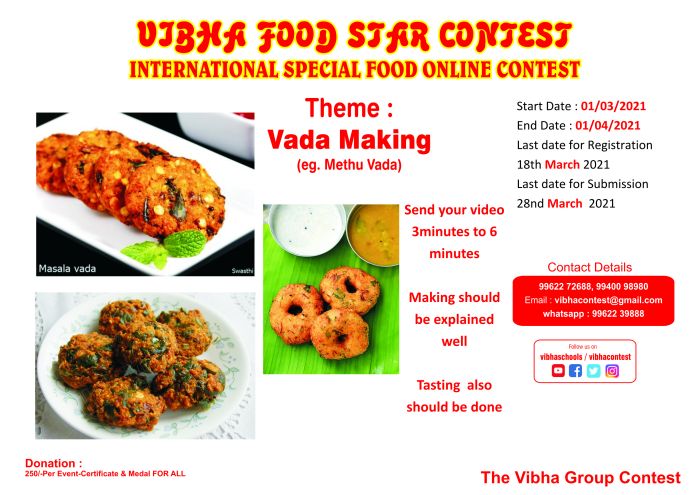 CATEGORY : TINY TOTS SUB-JUNIOR JUNIOR SUB-SENIOR SENIOR SUPER. SR
GRADE : NURSERY,KG, I.II.III, IV.V.VI, VII.VIII.IX, X.XI.XII UG, PG
EVENT CATEGORY :
01,COLORING (OR) DRAWING ( Video & Pictures )
02,ESSAY WRITING ( Video & Pictures )
03,HAND WRITING ( Video & Pictures )
04,FANCY DRESS ( Video & Pictures )
05,STORY WRITING ( Video & Pictures )
06,STORY TELLING ( Video )
07,ORATORY ( Video )
08,RHYMES ( Video )
09,PERSONAL TALENT ( Video & Pictures )
10,SLOKA TELLING ( Video )
11,SINGING & DANCE ( Video )
12,THIRUKURAL. ( Video )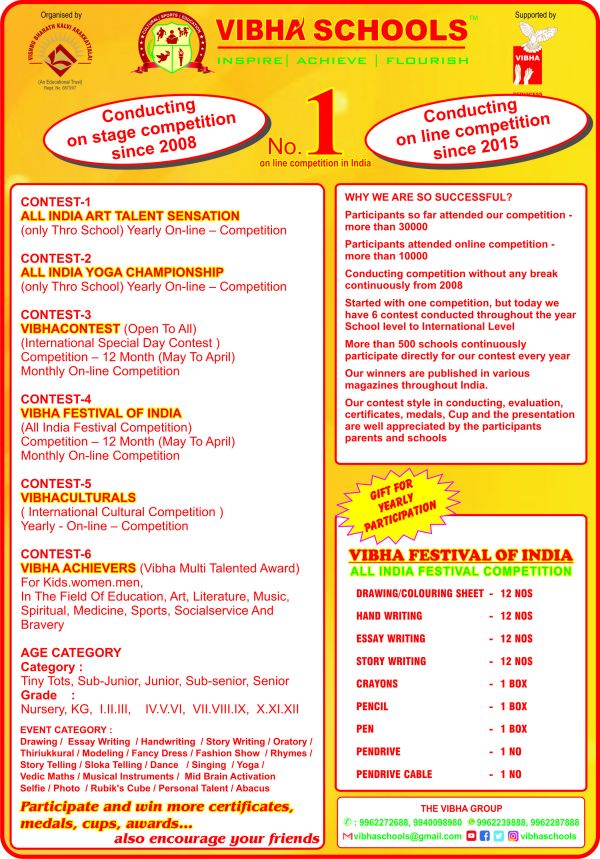 – The competition is conducted all over the World with different Theme (12 topics) every month
– The competition consists of ONLY ONE level .
– Competition is on-line
– Individual to contact thro' mail or whatsapp, make payment and send the competition materials (Drawing sheet, Photos, Handwriting, Essay writing, Video etc.) thro' whatsapp or mail. Theme of the event is the respective festival. Video timings should be between 1-3 mins
– Donation is Rs.150/- per event All participants Certificate only
– Donation is Rs.250/- per event All participants Certificate & medal
– An application donation Rs.100 per applicant to be made
– A student can participate in any number of events
– All participants will be provided Participation Certificate for each event*
– Merit certificate & medal will be given to the Winners*
– If a individual participates in 12 events and win 6 events, a cup will be given every month. If a individual wins 12 cups in a year a Big Trophy will be given free. Likewise if a participant wins in a year the respective cup will be given*.
– The Decision of the judges will be final and binding
Start Date : 01/04/2021 End Date : 01/05/2021
Last date for Registration 18th APRIL 2021
Last date for Submission 28 th APRIL 2021
(Drawing, Handwriting, Photos Video etc.)
THE VIBHA GROUP (CHENNAI)
(CULTURAL / SPORTS / EDUCATION )
Contact : 99400 98980 / 99622 72688
E-mail : vibhacontest@gmail.com
E-mail : thevibhagroup@gmail.com
WhatsApp : 9962239888 / 9962287888