HI PARTICIPANTS,
* WELCOME BACK TO WINNING KIDS
* HERE WERE WITH A NEW CONTEST THAT IS SPECIAL TALENT AWARD 2021 WHO IS GOING TO WIN THE TITTLE ??
*COME ON PARTICIPATE SHOW YOUR SPECIAL TALENT
* JUST RUPEES 150 INSIDE TAMILNADU AND OUTSIDE RS : 200
* TAKE A PHOTO OR VIDEO OF YOUR TALENT AND SEND TO WHATS APP NUMBER : 7695881824
* PAYMENT ONLY THROUGH PHONE PAY AND PHONE PAY NUMBER 9443362073
*REGISTRATION ONLY THROUGH WHATS APP , NUMBER : 7695881824
*IMPORTANT NOTE : NO CALLS ALLOWED
*ALL WINNERS WILL GET WINNING CERTIFICATE AND 50% OFFER FOR NEXT CONTEST ORGANIZED BY WINNING KIDS .
*PARTICIPANTS GET PARTICIPATING CERTIFICATE.
*ANY QUIRES WHATS APP TO : 7695881824
*JUDGES DECISION IS FINAL.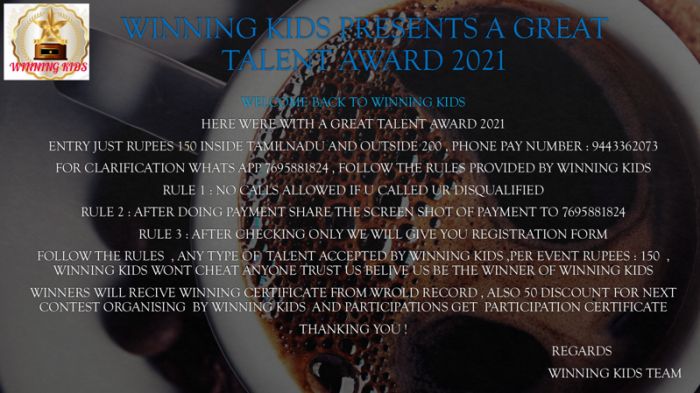 SPECIAL TALENT AWARD 2021 by WINNING KIDS