Hello Parents, KIDOOS Presents Women's Day Special Contest -‍ Mama's Baby ‍
CATEGORY A: Nursery,L.K.G,U.K.G
CATEGORY B:1st,2nd,3rd Grade
CATEGORY C:4th,5th,6th Grade
CATEGORY D: 7th,8th,9th,10th Grade
SPECIAL CATEGORY: Mom/ Dad, college students, Grand parents
Reg Fee:Rs.200/- Per Event
Registration Ends : 20-3-2021
Last Submission : 25-3-2021
Results : 30-3-2021
Theme:- Mom & Me
Following are the Events:
️ Flower Art
️ Foot Print (Mom&Me)
️ Essay Writing (Mom)
️ Music (Play any Musical instrument)
️ Dress up (Mom & Me)
️ Clay Modelling
️ Colouring ( CATEGORY A only ) – Outline Sheet will be shared
️ Drawing (Mom & Me)
️ Craft (Gift to Mom)
️ Speech (Mom)
️ Dance (Open)
️ Rhymes/Poem
All Participants will be awarded with Trophy/ Shield and e-certificate
Winners will be awarded with E- Certificate and Trophy
Participating in 6 Events will get Special Gift & Winning 4 or more Events will be awarded with Overall Trophy ( with KID NAME Printed on it)+ No of Events E-Certificates+ 1 Medal + 1 Memento.
POP YOUR HIDDEN TALENT
Per Registration : Rs.500/-
TROPHY / MEMENTO( Kid Name Printed ) + BEST PERFORMER MEDAL + HIDDEN TALENTED e-Certificate.
Amount paid is Non Refundable or Non Adjustable.
For more details Whatsapp 9515650093
Courier Charges Applicable.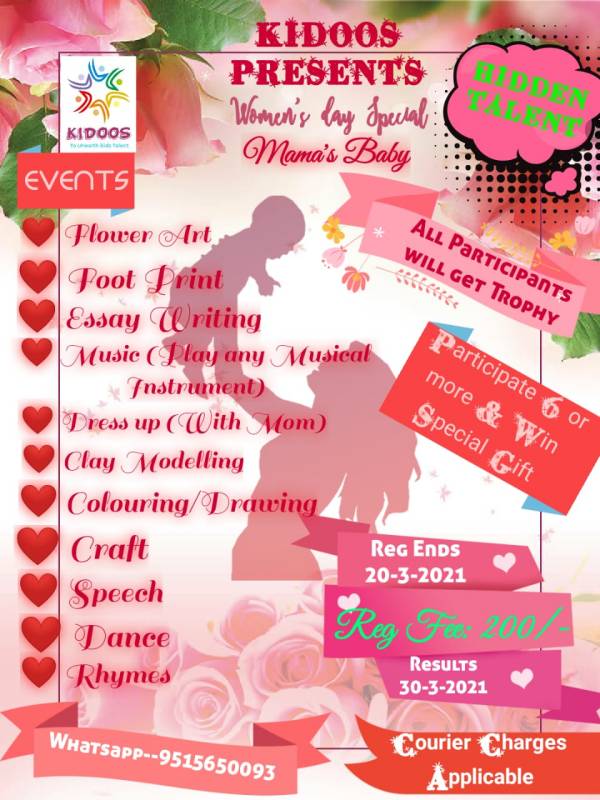 KIDOOS Women's Day Special Contest Mama's Baby