It is a Great platform to "UNLOCK YOUR KIDS TALENTS"
"Flying Petals" Proudly Presents National Level " Talent Hunt " 2021.
Whats App @ 7075374851 for Registration or More Details
CATEGORY A : Nursery, L.K.G, U.K.G
CATEGORY B : I, II, III, IV, V
CATEGORY C : VI, VII, VIII, IX
SPECIAL CATEGORY : Others
Reg Fee : Rs.220/- Per Event
Registration Ends : 20th Mar 2021
Last Submission : 22nd Mar 2021
Following are the Events…
Fireless Cooking
Singing
Seed Collection
Drawing
Veggie Art / Fruit Carving
Art & Craft
Music (Play Any Musical Instrument)
Best Out of Waste
Colouring (Category-A Only) – Outline Sheet will be Shared
OKRA painting / Leaf Painting
Clay Modelling / Dough Art
Hand Writing / Essay Writing
Rhymes / Poem Recitation
Unique / Special Talent (490/-) – They Get a Special Trophy, a Special Gift and E-Certificate
Winners will be awarded with "Winner Trophy and E-Certificate"
All Participants will be awarded with "Trophy and E-Certificate"
Participating Minimum 6 Events & Winning 4 or more Events will be awarded with Overall Trophy ( with KID NAME and Photo Printed on it) and Number of Events E-Certificates and 1 Best performer Medal
Amount paid is Non Refundable or Non Adjustable.
Note : Clear Images and Videos(1 – 3 min) is necessary.
Courier Charges Applicable.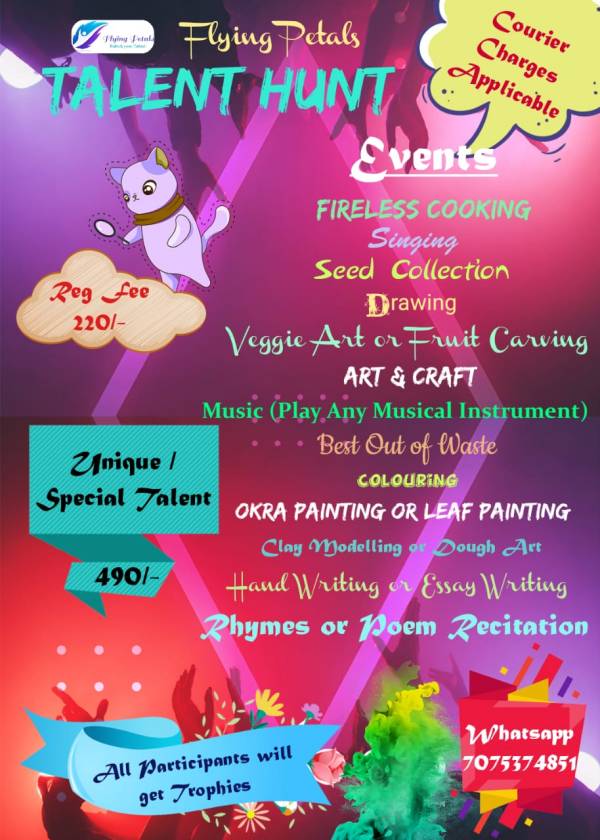 Flying Petals National Level " Talent Hunt " 2021