Hello Everyone
Happy to invite you to,the VIBHACONTEST
INTERNATIONAL SPECIAL FOOD CONTEST ON-LINE COMPETITION
THEME : (TOPIC) AGRICULTURE – PADDY
THEME : (SPECIAL TOPIC) SWEET PONGAL MAKING
AGRICULTURE is the Theme
Agriculture is the science and art of cultivating plants and livestock. Agriculture was the key development in the rise of sedentary human civilization, whereby farming of domesticated species created food surpluses that enabled people to live in cities. The history of agriculture began thousands of years ago. After gathering wild grains beginning at least 105,000 years ago, nascent farmers began to plant them around 11,500 years ago. Pigs, sheep and cattle were domesticated over 10,000 years ago. Plants were independently cultivated in at least 11 regions of the world. Industrial agriculture based on large-scale monoculture in the twentieth century came to dominate agricultural output, though about 2 billion people still depended on subsistence agriculture into the twenty-first.
THEME : (SPECIAL TOPIC) SWEET PONGAL MAKING
Pongal (பொங்கல், also spelled Poṅkal), is also referred to as Thai Pongal (தைப்பொங்கல், also spelled Tai Pongal), is a multi-day Harvest festival observed by the Tamil community. It is observed at the start of the month Tai according to Tamil solar calendar,and this is typically about January 14.It is dedicated to the Sun god, the Surya, and corresponds to Makar Sankranti, the harvest festival under many regional names celebrated throughout India.The three days of the Pongal festival are called Bhogi Pongal, Surya Pongal and Maattu Pongal.
CATEGORY : TINY TOTS SUB-JUNIOR JUNIOR SUB-SENIOR SENIOR SUPER. SR
GRADE : NURSERY,KG, I.II.III, IV.V.VI, VII.VIII.IX, X.XI.XII UG, PG
EVENT CATEGORY :
01,COLORING (OR) DRAWING ( Video & Pictures )
02,ESSAY WRITING ( Video & Pictures )
03,HAND WRITING ( Video & Pictures )
04,FANCY DRESS ( Video & Pictures )
05,STORY TELLING ( Video & Pictures )
06,STORY WRITING ( Video & Pictures )
07,ORATORY ( Video )
08,RHYMES ( Video )
09,PERSONAL TALENT ( Video & Pictures )
10,SLOKA TELLING ( Video )
11,SINGING & DANCE ( Video )
12,THIRUKURAL. ( Video )
THEME : AGRICULTURE – PADDY
THEME 🙁 SPECIAL TOPIC ) SWEET PONGAL MAKING
The competition is conducted all over the World with different Theme (12 topics) every month
The competition consists of ONLY ONE level .
Competition is on-line
Individual to contact thro' mail or whatsapp, make payment and send the competition materials (Drawing sheet, Photos, Handwriting, Essay writing, Video etc.) thro' whatsapp or mail. Theme of the event is the respective festival. Video timings should be between 1-3 mins
Donation is Rs.150/- per event All participants Certificate only
Donation is Rs.250/- per event All participants Certificate & medal
An application donation Rs.100 per applicant to be made
A student can participate in any number of events
All participants will be provided Participation Certificate for each event*
Merit certificate & medal will be given to the Winners*
If a individual participates in 12 events and win 6 events, a cup will be given every month. If a individual wins 12 cups in a year a Big Trophy will be given free. Likewise if a participant wins in a year the respective cup will be given*.
The Decision of the judges will be final and binding
Last date for Registration 18th JANUARY 2021
Last date for Submission 28 th JANUARY 2021
(Drawing, Handwriting, Photos Video etc.)
THE VIBHA GROUP (CHENNAI)
(CULTTURAL / SPORTS / EDUCATION )
Contact : 99400 98980 / 99622 72688
E-mail : vibhacontest@gmail.com
E-mail : thevibhagroup@gmail.com
WhatsApp : 9962239888 / 9962287888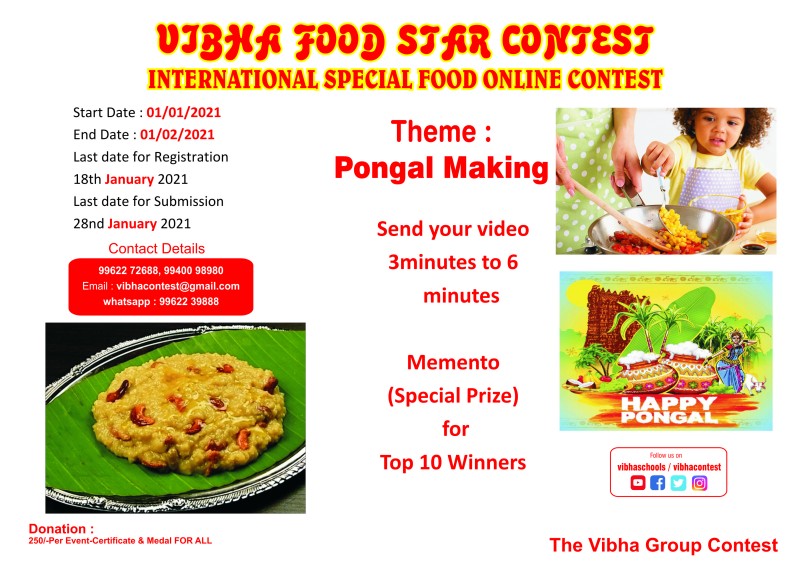 Vibha Contest : International Special Day Contest Online Competition