Melio- Multiplication Division Speed Math Challenge.
They say, 'the only way to learn mathematics is to do mathematics'. A popular and exciting way to do mathematics is by participating in the Melio Speed Math Challenge! This time, the questions will be based on multiplication and division. Are you Melio Ready?
Our previous challenges have witnessed participation from India, USA, UAE, Switzerland, Bahrain, Singapore, and more! Top 3 winners win exciting prizes and move up to the next level. All participants receive e-certificates and detailed report-cards.
Register now @https://bit.ly/33T70Hp or call-whatsapp us at 9686534166.
Venue Address: Online Competition via Zoom.
Age Group: Grades 1-6
Event Date: 7th, 14th, 21st January 2021

Timings: 5-9 PM IST
Registration Deadline: Till slots available
Event Fee: 299 Rupees

Link to Book Tickets/Registration: https://bit.ly/33T70Hp
Contact Person: Gunjan Shah
Contact Number: 9686534166
Email Id: support@melio.co.in
Website: www.melio.co.in
Facebook Page: https://www.facebook.com/OfficialMelio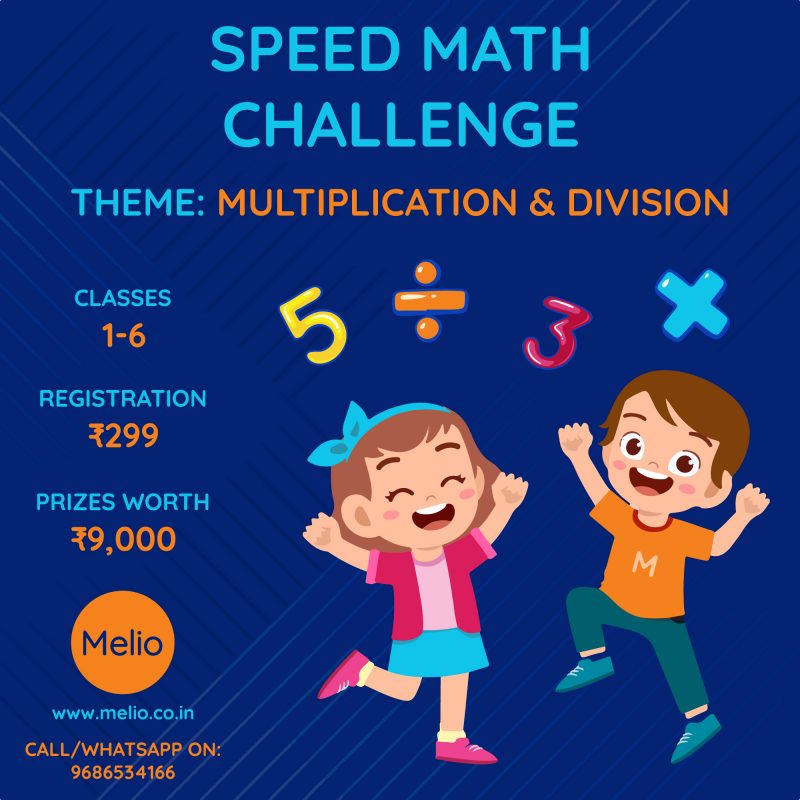 Event launch – Multiplication Division Speed Math Challenge