"eClaps" proudly presents "Rangoli with Mummy" – a National level online Rangoli competition for Moms and Kids.
Please find below the rules and guidelines to take part in the contest.
For more queries, please contact +91 – 8925242910 ONLY on Whatsapp.
How to submit:
Rangoli should be displayed on a floor
Any coloring tools could be used
Capture a 2 mins Video of contestants in action while making the rangoli. Jury may adjudge the winners only upon validation of the video submitted.
Do the payment of registration fee Rs.50 through Google pay number: "9791512431"/ UPI ID: "vignesham2690@okhdfcbank" provided and capture the screenshot of the successful payment or share receipt.
Send the Video, Image of the Rangoli along with G-pay screenshot/receipt through Whatsapp towards the number +91-8925242910.
You will get an acknowledgment via Whatsapp on successful submission.
Age Category:
3-14 years kids with the help of Mothers.
Participation:
Files must be in JPG/JPEG/PNG format.
Files may not exceed 1-2MB.
Submission should be of original nature and not copyrighted.
No restriction on the number of submissions.
Deadline:
All entries will be accepted until 23:59 HRS IST of 24th Jan 2021.
Judging Criteria:
Once the submission deadline has passed, all submissions will be reviewed by the judges where the winner are selected based on the following:
Creativity and originality of the Rangoli
Overall impression of the Rangoli.
The complexity of the Rangoli design
Judge's decisions are final and no correspondence will be entertained.
Prizes:
E-Certificate will be issued to all participants; Winners will receive Medals and Winning E-Certificate.
Results will be notified to all the participants on the provided WhatsApp number and official eClaps Whatsapp group.
Organizers reserve the right in their sole and absolute discretion to terminate the contest at any time without prior notice and a refund will be issued for the successful submission.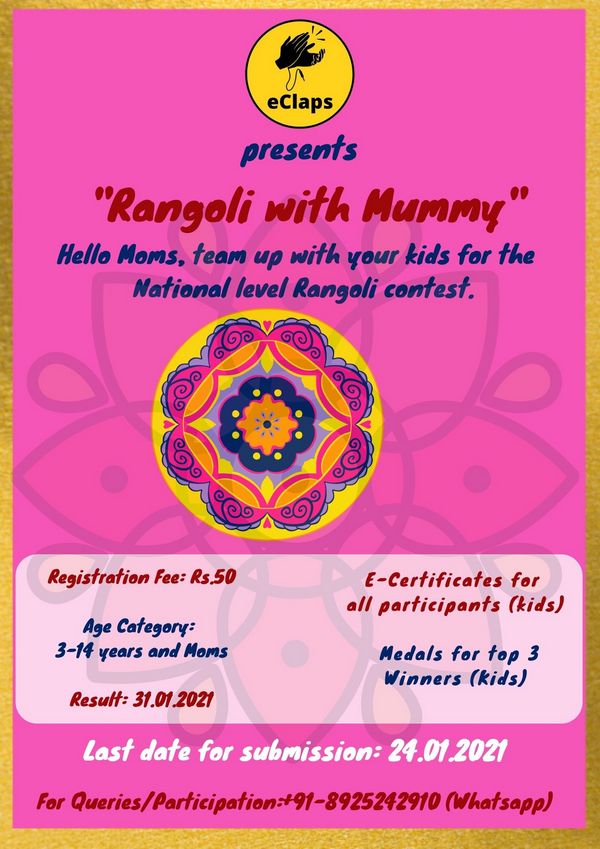 eClaps Presents 'Rangoli with Mummy'