Greetings of the Day!
Let me take an opportunity to announce that the creative heads are back with the next version of the platform befitting the rich heritage of storytelling. Once again proud to host
The Kahanikaar #3.0
Fulfilling the promise to be back after the resounding success of Storytelling Theatre by teachers. Now the stage is all set for an enthralling session with Eicher School students. The live event will feature storytelling by our students.
Also taking this opportunity to unleash the vivacious passion and talent of children, we invite participation from your school for the virtual contests. Kindly complete the e-registration of the students in the various events that you wish to participate in, details are provided in the e-brochure. The LIVE event is scheduled for 12 December 2020. The details of the same are mentioned in the e-brochure.
Foreseeing an encouraging response as always to forge connections through stories.
'Stay Safe, Stay Creative'
E-Brochure https://spark.adobe.com/page/5sPWOL9ZDwnX3/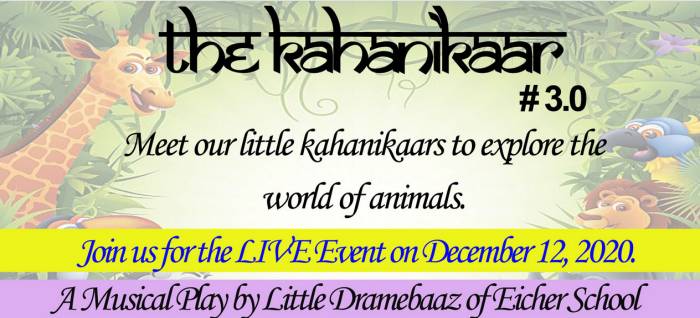 The Kahanikaar #3.0 by EICHER SCHOOL, Faridabad