"An equation for me has no meaning, unless it expresses a thought God." said the great mathematician Ramanujan.
Every year, India celebrates National Mathematics Day on December 22nd to commemorate the birth anniversary of that great Indian mathematical genius Srinivasa Ramanujan for his substantial contributions to the world of mathematics.
This year Enhance Team proudly presents 'Mathmagicians'- Online Maths contest to celebrate the birthday of the legend.
This contest is an opportunity to showcase your kids power of reasoning, creativity, abstract or spatial thinking, critical thinking, problem-solving ability and even effective communication skills .
Eligibility : Toddlers , LKG to 3 rd Grade
For Registration contact : 9943371243
Rules and syllabus will be shared after registration and payment.
Registration Ends : 31 ST December 2020
Slots starts from : 2 ND JANUARY 2021
Payment : Gpay @ 7373337123
Registration Fee : Rs.150 per Event
Note:
All participants will be awarded E-Certificates.
All Winners will be awarded E-certificates & Trophies for each category.
All participants who got full scores other than winners will get special mention medal.
Winners will need to send courier charges upon their prize arrival.
Amount paid is Non Refundable /not transferable to any other competitions.
Register through
https://docs.google.com/forms/d/e/1FAIpQLSfH8pWAwwIU0E2Nto03qO8sY0–HwquoDZQ0DtHhcYBauqDsw/viewform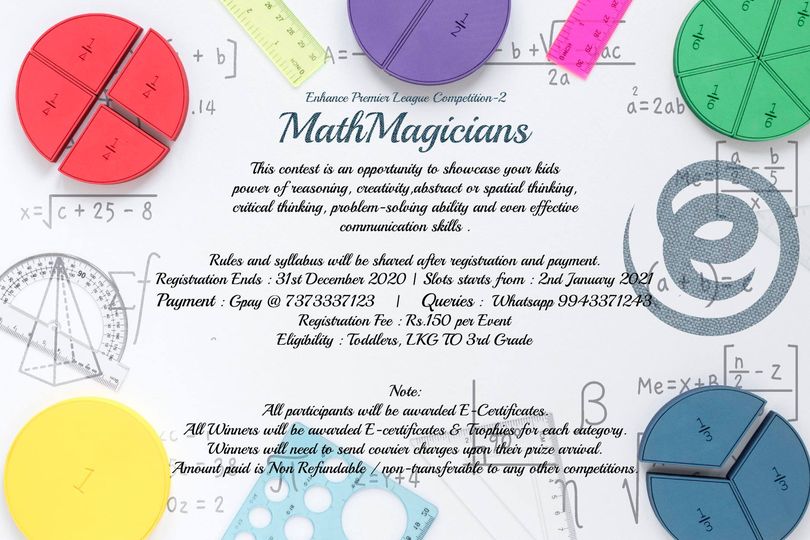 MathMagicians | Enhance Premier League Competition-2