Hello, Jai Krishna Global presents National Level Online Xmas Contest 2020 – 2021
Any age group
Events :
Drawing & Colouring…any topic
Solo Dance…any dance form
Singing / Rhymes…Any language, any topic
Any Instrument Playing…send a video playing any Musical Instrument
Story Telling…Any topic, Props are optional.
Fancy Dress…Any Topic, Send a picture, video not required
Art & Craft…Any topic
Festive Photo…Click a selfie or a picture of yours with any festive background or any cheerful occasion & send it.
Greeting Card Making…Any topic
Collage Making…Any topic
Fashion Show with a Small Ramp Walk…Dress up in ur best attire with a small ramp walk, video required
Fireless Cooking…Bring out the chef in you by cooking a yummy recipe with outstanding presentation of the dish…video & final pic required.
Xmas Decorations…Make and /or decorate Santa Claus, Star, Xmas Tree, Snowman or any other item of Christmas theme or the entire Christmas set up.
Age Categories :
Upto 6 years
7 years – 11 years
12 years – 17 years
18 years & above.
All Winners will be awarded with Winner Medal + Winner E Certificate.
All Participants will be awarded with Medal + Participation E Certificate.
Winners of more than 4 events will be awarded with an overall Trophy + E Certificates.
Please post a clear picture of your activity or a small video (video for Solo Dance, Singing / Rhymes, Instrument Playing, Story Telling, Fashion Show with a Small Ramp Walk, Fireless Cooking) on Whatsapp tel 8850387460 or email : jaikrishnaglobal@gmail.com
Also, please mention name, age, contact no., Email id and participating events of the participant along with a screenshot of the payment transaction. Also, share your complete postal address along with landmark and pin code.
Entry fee : Rs. 200/- per event
Gpay / Paytm on Tel 8850387460 Or payment through bank account transfer.
*Last date*: 4th January 2021
*Results* : 6th January 2021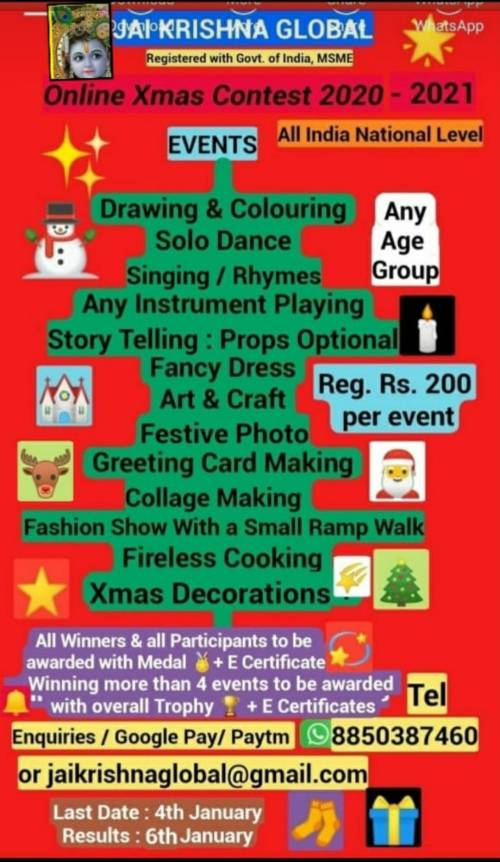 Jai Krishna Global presents National Level Online Xmas Contest 2020 – 2021