Fun Kids Fest 2020 by Unique Events | Theme : Christmas.
RULES & REGULATIONS
*For Registration, https://forms.gle/PJ63HCUYc8ZoPRMM8
1.All Registered Participants Will Get Participation e-Certificate.
2.The winners Will Get Winner Certificate & Winner Medal through courier.
3.Any 4 Competition Winners Will Get Overall Achievement Trophy.
4.Participants who wins Overall Achievement Trophy alone should pay additional ₹50 for Courier Handling Charges.
5.For Colouring, 3 Pictures related to the theme will be shared to you as PDF file. Choose any 1 out of it as your kid likes to colour and take a printout of your own for colouring.
6.For Colouring, Greeting card making & Craft (Snow Man making) all making videos must be trimmed or fast forwarded to 1min & Final Best picture needed.
7.For Christmas Tree Décor & Jesus Birth Crib Decor only pictures should be submitted (Best 2 pictures) & no video required.
8.The Competition videos must be trimmed to 1min & Final pictures along with Kid's name & Class must be sent to WhatsApp no. 9790894909 only on the date of 29thDECʻ2020.
9.Last Date for Registration is 28thDECʻ2020 & Results will be on 04th JANʻ2021
10.Judges Decision is Final.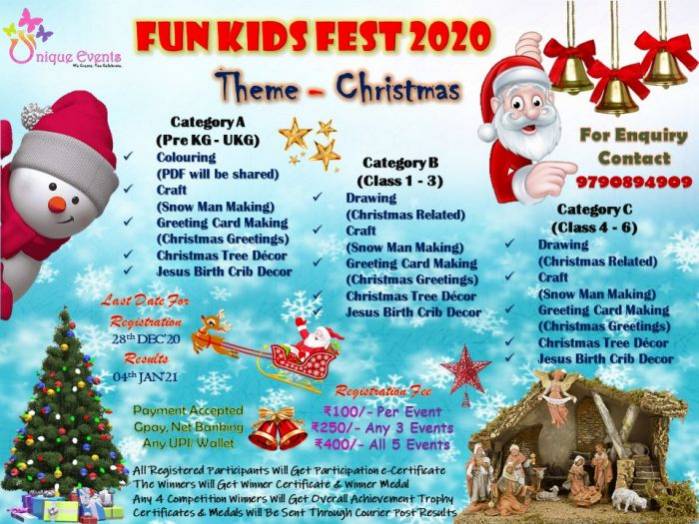 Fun Kids Fest 2020 by Unique Events | Theme : Christmas