Danica McKellar said 'Math is the only place where truth and beauty mean the same thing'. Does your child think so too? Do they love playing with numbers? If so, sign up for Melio Speed Math Challenge Level 1! Our previous challenges have witnessed participation from India, USA, UAE, Switzerland, Bahrain, Singapore, and more!
What does the child need to do? Participants will be shown questions on the screen involving Addition, Subtraction, Multiplication or Division between 2 numbers on the screen, and they need to calculate the answers mentally within a specified time limit. They can either answer the question or pass them. Scoring is done on the basis of the number of correct answers. No negative marking. The questions asked will be age appropriate.
What to expect and how to prepare? Each Challenge is conducted over a 40 minute long group video-call. The competition is held between 6-9 participants, along with a Moderator and a Judge. Participants perform one-by-one, with the rest of them watching keenly on mute mode. Results are announced at the end of the 40 minute session.
What about the prizes, certificates, and Levels? Everybody gets e-certificates for participating or winning, the top 3 winners move up to the next level and get exciting prizes! Each Melio Activity has 10 levels. Students start competing at Level 1 and move up levels where the competition gets more intense.
You can check out https://youtu.be/PDJLjXVWAUI to get a feel of the challenge. All registered participants get sample questions to help prepare for the challenge.
Register now @https://bit.ly/33T70Hp or call-whatsapp us at 9686534166.
Venue Address: Online Competition via Zoom.
Age Group: Grades 1-6
Event Date: 28th Nov, Saturday
Timings: 3-9 PM IST
Registration Deadline: 3PM the day before the challenge
Event Fee: 299 Rupees
Link to Book Tickets/Registration:

https://bit.ly/33T70Hp
Contact Person: Gunjan Shah
Contact Number: 9686534166
Email Id: support@melio.co.in
Website: www.melio.co.in
Facebook Page: https://www.facebook.com/OfficialMelio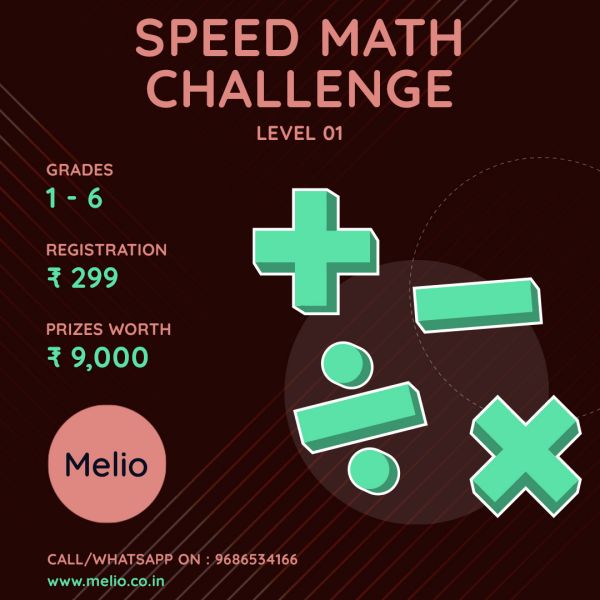 Melio Speed Math Challenge Level 1