GLOBAL LEARNERS ACADEMY OF DEVELOPMENT TALENT HUNT 2020 – ONLINE
27th October 2020 to 10th November 2020.
ABOUT GLAD : Global Learners Academy of Development (GLAD) is a Knowledge management organization and a Business Research Centre with focus on Knowledge creation and Dissemination globally. Global Learners Academy of Development is organizing an International ART contest on Global Impact of Corona Virus.
Topics for the Contest –
Dance (Any Style)
Music (Vocal/Instrumental)
Art & Craft
Painting
Writing(Poetry, Story, Comic, Essay, Handwriting)
Documentary & Short films
Terms and Conditions
Eligibility – 3 years onward
Entry Fee – Indians – Rs 100
Take Away –
Winners will be awarded with a TROPHY
Runners and third place will be honoured with medals and certificates
All participants will get certificates
All submissions can be made to gladnetacademy@gmail.com from 27th October 2020
Results will be announced on 12th November 2020
Global Learners Academy Of Development,Chennai-600080, India
Website – https://gladnetwork.in/
Email – gladnetacademy@gmail.com
Mobile – 7358671720
About Talent Hunt 2020
The Talent Hunt 2020 is organized to identify talents in various fields, motivate them and reward them with suitable recognition. Children who have proven talents or remarkable achievements in any of the below are requested to submit them to us in a soft copy. The achievement will be evaluated and awarded suitably.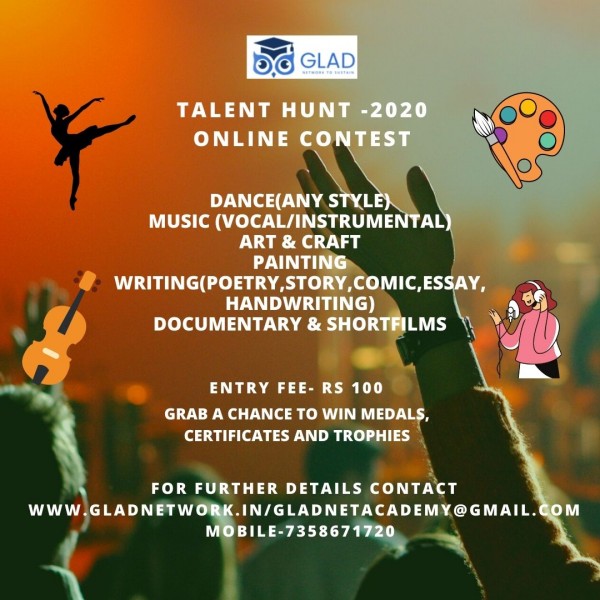 TALENT HUNT 2020 – ONLINE by Global Learners Academy of Development