Royal Salute for our Real Heros world record Painting competition organized by Nizhalgal Trust and Intech Events.
Express your thoughts in form of an artwork from the comfort of your home. We are charging very nominal participation fee to generate fund to arrange food and other assistance to tribal people.
Let's all get together and dedicate our art to the authorities and healthcare professionals and the victims fighting the Corona Virus Pandemic!
ABOUT COMPETITION : The Competition aims to raise awareness about Corona among the public and to honor Doctors, Nurses, Police, Social Workers and Cleaning Staffs who have selflessly served the public during the Corona era. With due respect to the current situation where social distancing is being practised
owing to the Corona Virus, Corona Virus Disease (COVID-19) is a new strain that was discovered in 2019 and has not been previously identified in humans.
The World Health Organization (WHO) declared the corona virus outbreak a public health emergency of international concern; it has spread across the globe.
ART COMPETITION RULES:
Please read and be sure you understand thoroughly the Rules and Regulation for participating in this competition.
The following are the rules for entering the Royal Salute for our Real Heros State Level Charity Drawing Competition.
Group A – Class 1st to 5th
Group B – Class 6th to 8th
Group C – Class 9th to 12th
Group D – Open Category for all Age People
TOPICS:
Group A – Cartoon Fight against Corona ( As your favorite cartoon character fights against the corona virus )
Group B – Spreading and Vulnerability of corona
Group C – Selfless Servants of our Nation
( Drawing should depict the service of one of the doctors, nurses, police,cleaning st affs and social workers who have selflessly served during the corona period )
Group D – Humanity During the Corona Period
( Your paintings should be in a way that, during the Corona Curfew, helps others in a humane way, even if they need it. )
———————————————————————————————————
It is important to read the rules and procedures before submitting work to us. Please follow the theme of each category. If you have any questions regarding the theme and its interpretation, contact us at nizhalgaltrust2017@gmail.com. We will help you with the submission process.
Entries must follow competition theme.
Any Indian Individual can Participate.
One participant can submit any number of entries with separate participation fee for each entry.
All the entries will be divided in below mentioned age groups & Evaluation will be done accordingly.
Competition is open to all age people (Group 4 Category) and professional Artists also
This is a State level competition and any student from India can participate.
The work must be made by the participant at their own.
No art previously submitted in any other competition.
Experimental and mixed techniques are welcome.
If you have questions regarding the competition theme or rules, please contact at nizhalgaltrust2017@gmail.com
Colour to be used & Paper Size: Any colour medium to be used for painting . Student can use any size paper/canvas. After final selection you may be asked to send/submit original paintings with organizers.
Registration Fee:
Group A – Class 1st to 5th Rs.399/-
Group B – Class 6th to 8th Rs.399/-
Group C – Class 9th to 12th Rs.399/-
Group D – Open Category for all Age People Rs.499/-
Registration Fees has to be paid using Google Pay Barcode or via IMPS/NEFT Bank transfer
CONTEST ENTRY MUST NOT :
Contain content, material or any element that is unlawful, or otherwise in violation of, or contrary to, all applicable national, state, or local, laws and regulations.
Use any content, material or element that is owned by a third party or entity or that violates a third party's publicity, privacy or intellectual property rights.
In case of any fraud or mischief found on the part of the entrant, he/she will be deemed to be disqualified from this Contest.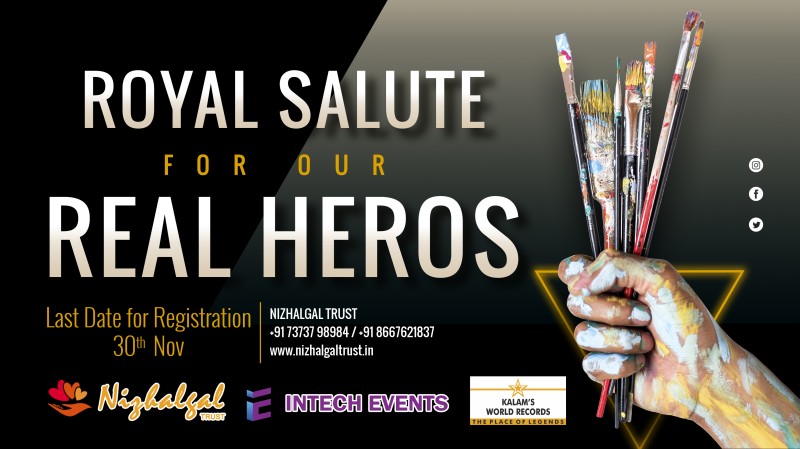 AWARDS & RECOGNITION:
1st Prize : 7000 (INR) from each group will get a State Level Winner Certificate with Medal.
2nd Prize : 5000 (INR) from each group will get a State Level Winner Certificate with Medal.
3rd Prize : 3000 (INR) from each group will get a State Level Winner Certificate with Medal.
1st Prize for Group D (2nd & 3rd Prices are Same as Group A) : 10000 (INR) from each group will get a State Level Winner Certificate with Medal
Best of All : A painting from each group will receive a Gift Bag
Other surprises too.
SOCIAL MEDIA WINNER : TOP 10 based on likes, shares and comments.
Share your submitted Art work in Facebook, Instagram and Twitter with hastag
#RoyalSaluteforourRoyalHeros2020 #NizhalgalTrust #Nizhalgal #IntechEvents
Note: Courier and packaging charges of certificated will be borne by the Winners. Prizes will be sent after lockdown is over.
SUBMISSION DEADLINE : The online drawing competition is open to all Indian Citizen around the State of Tamilnadu who have completed the age of 6 years and above. The Contest begins on 15th October 2020 and the closing date for receipt of entries will be 30th November2020 midnight (IST) ("Contest Period"). All dates are subject to change. The last date to send your paintings by courier is 05th December 2020.
HOW TO SUBMIT YOUR WORKS:
You should send your paintings with your separate passport size photograph to the below address through courier by 05th December 2020.
Nizhalgal Trust
4/448, 1st Floor
Thendral Nagar, Sathirakudi
Paramakudi Taluk, Ramanathapuram Dt
Tamilnadu – 623527
Contact – +9173737 98984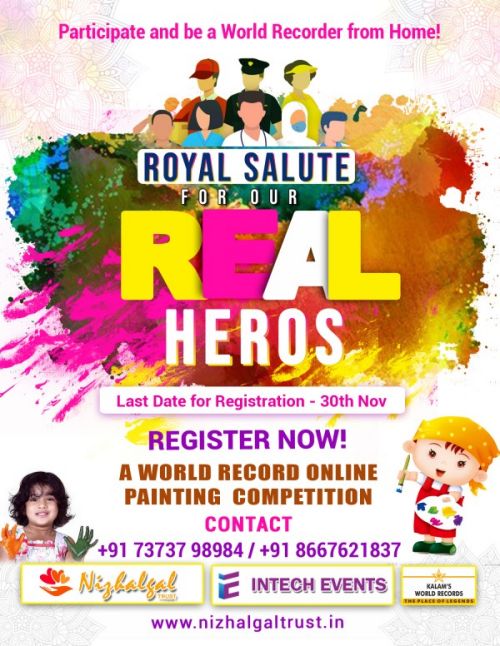 Every artist whose artwork is chosen for that Competition will receive an email notification. All other art competition participants will receive an email notifying them that their artwork was not selected, along with the results of that art competition.
Interpretation and the clarity of the theme to the viewer.
Creativity and originality of the depicted theme.
Quality of artistic composition and overall design based on the theme. Overall impression of the art. What is the effect of the artwork in general and as a
whole? Overall, does the artwork stand on its own as a complete and outstanding work of art?
IMPORTANT NOTICE: Do Not Use other's Painting to Submit Your Entries to Our Art Competitions. This Causes Confusion, Errors and Wastes Time during Our Administration Process. When we find such Entries, we will Reject the Artist's Entire Submission. Thank You for Your Cooperation.
IMPORTANT DATES:
Registration Starts from : 15th Oct 2020
Last Date for Registration : 30th Nov 2020
Last Date for send your Creations : 05th Dec 2020
World Record Attempt Date : 14th Dec 2020
Venue and Time
There is no Particular Venue for this Drawing competition. Everyone can participate from your home only.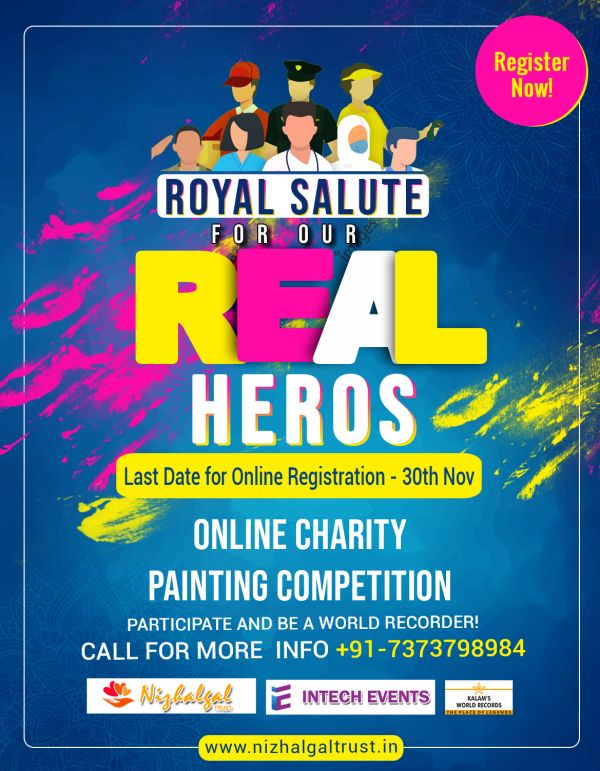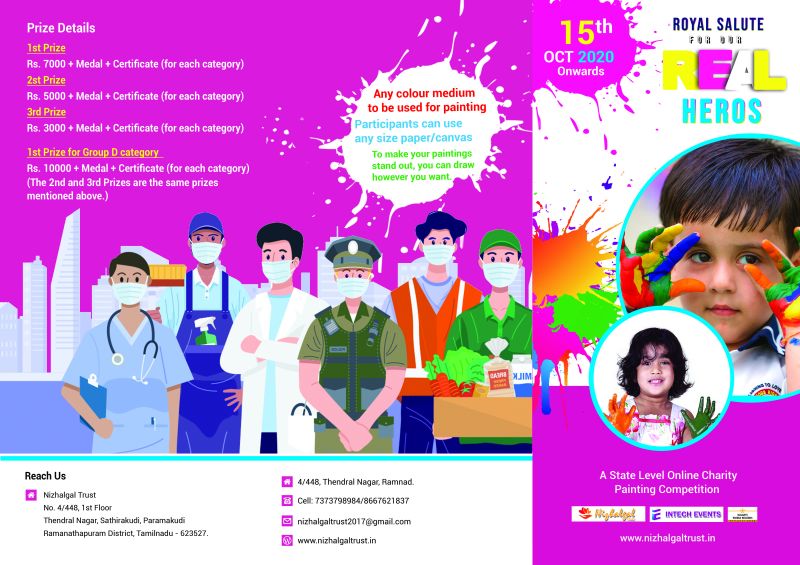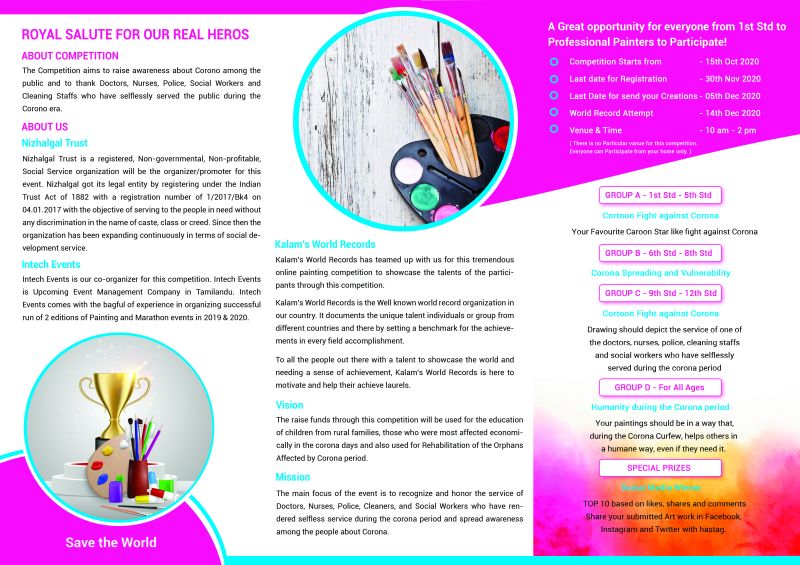 Royal Salute for our Real Heros State Level Charity Drawing Competition