National Unity Day or Rashtriya Ekta Diwas is celebrated on 31st October every year since 2014 to commemorate the birth anniversary of Sardar Vallabhbhai Patel. Sardar Vallabhbhai Patel was India's first deputy Prime Minister and is popularly known as the 'Iron Man of India'. He played a major role in persuading over 500 princely states to accede to the independent Indian Union.
To spread awareness about Sardar Vallabhbhai Patel's contribution to the Indian history, we are organizing a Map Quiz-Online Contest.
Contest Details:
Primary : Age 4 & 5: Identify the state and its capital
Sub Juniors : Age 6 & 7: Identify the state, its capital and official language
Juniors: Age 8 & 9: Identify the state, its capital and Chief Minister.
Fee:Rs.150
Study material will be provided.
Contest will be conducted via zoom.
Slot starts from Oct 26th and participants will be intimated in prior
E-certificates to all participants and winners will receive trophies.
*Whatsapp 'REGISTERED FOR MAP QUIZ' to 8838500794 for payment link.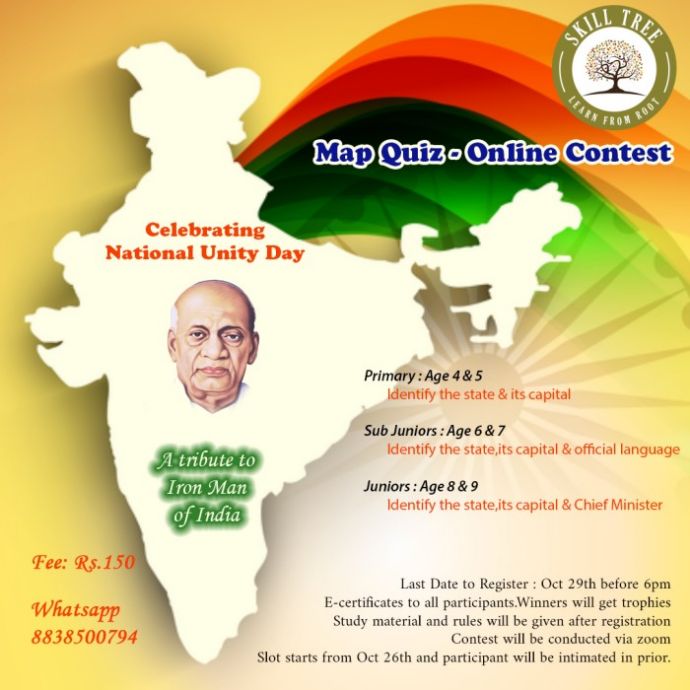 Map Quiz-Online Contest by Skill Tree