FUN KIDS FEST 2020 (THEME – Festivals Of India) An Online Competition for kids by *UNIQUE EVENTS*
CATEGORIES
CATEGORY A: PRE KG – UKG
(Any Festival of India) (Whether it can be Diwali, Pongal, Christmas, New year, Bakrid Ramzan, etc.,)
COLOURING (Pictures Will be shared)
SPEECH (One shot video without editing Below 1 min)
GREETING CARD MAKING (Parents Can Help)
CATEGORY B: CLASS 1 – 3
(Any Festival of India) (Whether it can be Diwali, Pongal, Christmas, New year, Bakrid Ramzan, etc.,)
DRAWING (My Favourite Festival)
SPEECH (One shot video without editing 1 – 1.5mins)
GREETING CARD MAKING
CATEGORY C: CLASS 4 – 6
(Any Festival of India) (Whether it can be Diwali, Pongal, Christmas, New year, Bakrid Ramzan, etc.,)
DRAWING (My Favourite Festival)
SPEECH (One shot video without editing 1.5 – 2 mins)
GREETING CARD MAKING
REGISTRATION AND PAYMENT
Last Date for Registration 18th OCTʻ20 & Results on 25th OCTʻ2020
Registration Fees: *₹100/- Per Event* / *₹250/- All 3 Events*
Any UPI, Gpay, Net Banking Payment Accepted
For Enquiry Call or WhatsApp 91762 11345 & 98845 00445
RULES & REGULATIONS
All Registered Participants Will Get Participation e-Certificate.
The winners Will Get Winner Certificate & Winner Medal through courier.
All 3 Competition Winners Will Get Overall Achievement Trophy.
Participants who wins Overall Achievement Trophy alone should pay additional ₹50 for Courier Handling Charges.
For Colouring, 3 Pictures related to the theme will be shared to you as PDF file. Choose any 1 out of it as your kid likes to colour and take a printout of your own for colouring.
Competition videos must be trimmed to 1 – 1.5 mins & Final picture along with Kid's name and Class should be sent to WhatsApp no. 98845 00445 only on the date of 20th Octʻ20.
Judges Decision is Final.
For Registration: https://forms.gle/WN3cwRbj39X4GVwMA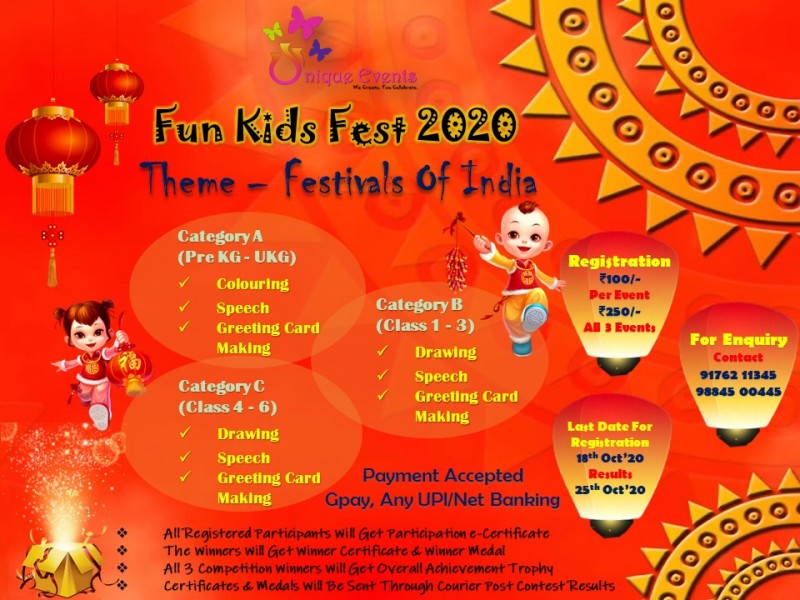 FUN KIDS FEST 2020 (THEME – Festivals Of India) | Online Competition by Unique Events