Hello Everyone
THE VIBHA GROUP is providing a Big Stage for your Children to Express their Inner and Unique Talents. Help them to participate in as many events as possible. Give your child the proud of participation and not Winning. Let them FLY.
EVENT CATEGORY :
1.COLORING(OR)DRAWING
2.ESSAY WRITING,
3.HAND WRITING
4.FANCY DRESS
5. STORY TELLING
6. STORY WRITING
7.ORATORY
8. SELFIE
9. PERSONAL TALENT
10. PHOTO WHILE CELEBRATION,
THEME : (TOPIC) NAVARTHRI (AYUDHAPOOJA)
Age (M&F): Below 4, 5-6, 7-9, 10-13, 14-17, Above 18 for all events.
– The competition is conducted all over India
– The competition consists of ONLY ONE level .
– Competition is on-line
– Individual to contact through mail or whatsapp, make payment and send the competition materials (Drawing sheet, Photos, Handwriting, Essay writing, Video etc.) Theme of the event is the respective festival. Video timings should be between 1-3 mins
– Donation is Rs. 250 per event
– For 6 events Rs. 1500 (Rs.250 per event)
– An application donation Rs.100 per applicant to be made
– A student can participate in any number of events
– Participation Certificate & Medal will be provided for all participants for each event
– Merit certificate & medal will be given to the Winners
– The Decision of the judges will be final and binding
Start Date : 10/10/2020 End Date : 10/11/2020
Last date for Registration 28th OCTOBER 2020
Last date for Submission 08th NOVEMBER 2020
(Drawing, Handwriting, Photos Video etc.)
Contact : 99400 98980 / 99622 72688
E-mail : vibhafestivalofindia@gmail.com, thevibhagroup@gmail.com
WhatsApp : 9962239888 / 9962287888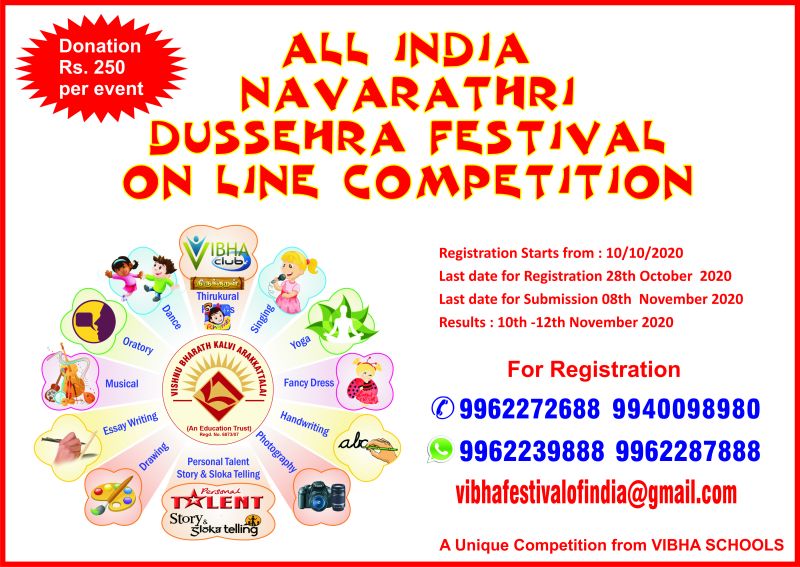 ALL INDIA NAVARTHRI DUSSEHRA ON-LINE COMPETITION