Greetings from Heritage Foundation of Art and Culture.
We are happy to announce the 11th edition of the program NAZARIYA , one of the prestigious National Level Painting Competition for children.
To our credit, NAZARIYA painting competition has achieved recognition with consistent support from all school managements thereby making this program a one of its kind. We are glad to have met your expectations by maintaining a standard for the program and we assure you that the trend will continue.
The program will be conducted online owing to the COVID pandemic and each participant can register using the link below. All information on the program is available in the link below.
The registration fee is Rs. 150/-
Last date to enroll: 31 DEC 2020
The painting competition is open for 3 categories as below:
Sub Junior- Grade 1 to 3 (Say 'NO' to Plastic)
Junior – Grade 4 to 6 (Natural Solutions For Climate Change)
Senior – Grade 7 to 10 (Preserving and Restoring Biodiversity)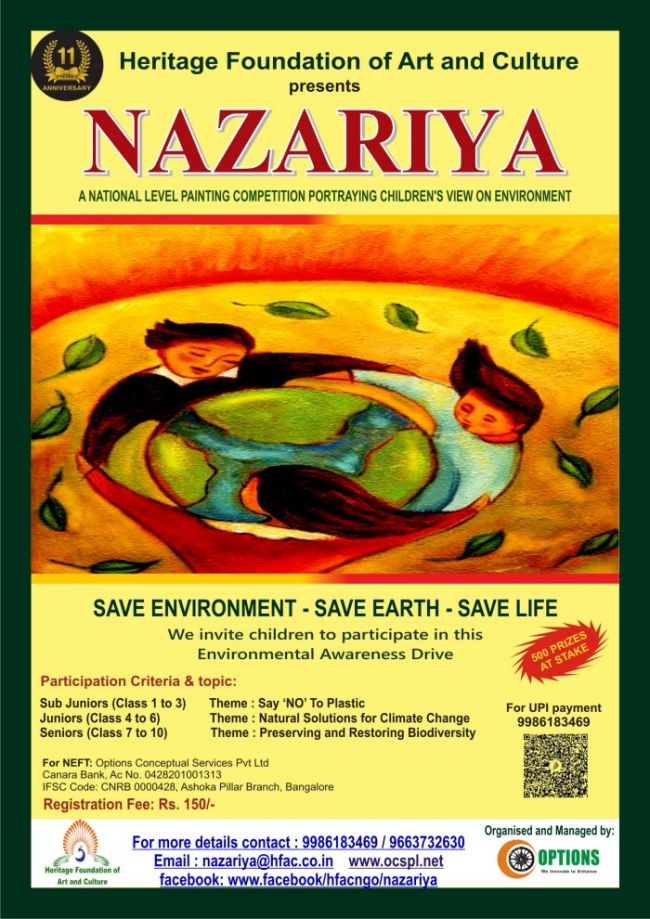 11th Edition of NAZARIYA National Level Painting Competition for Children 2020