THIS Competition is for Tamil Nadu Participants ONLY
#Staysafe #Stayblessed
"Salam to Kalam"
*A wonderful opportunity to become a world record holder at home*
*This Official world record attempt is recognized by TRIUMPH WORLD RECORDS*
*Register before October ‌2 and Only the first 500 entries will be accepted*
*Last date to send your sketches via whatsapp 05/10/2020 *
*All the Portraits of APJ will be displayed in online on 15.10.2020*
*After Registration,
We will send few Abdul Kalam's photo. You can select any one , which is comfortable to you to draw*
*Kids can draw by watching a demo video(we will send) or with the help of adults*
*It is not important that the painting should be beautiful.
It is very important that you give your contribution to the drawing*
*When you have finished drawing, take a photo with the drawing and send it to the organizer whatsapp number with your name and town*
*Each participant will receive a TRIUMPH WORLD RECORD Certificate and a medal through courier*
*There is no age limit to participate in this achievement*
*Participant should register their Name, Age & Address and Screen shot of payment through Whatsapp*
*Entry fee for per head is ₹ 125.(If only one person participant, you have to send Entry fee ₹ 125 + ₹ 25 for courier charge.If more than 4 persons participating from the same address,there is no courier charge.only entry fee to all.
Pay at Google pay Jacob Gnanaselvan 8838732824.
TRIUMP WORLD RECORD organizer Certificate and Trophy will be awarded to each organizers (if any person suggest more than 25 participants, he/she will be considered as a organizer).
Register and for details Giri N 9345558611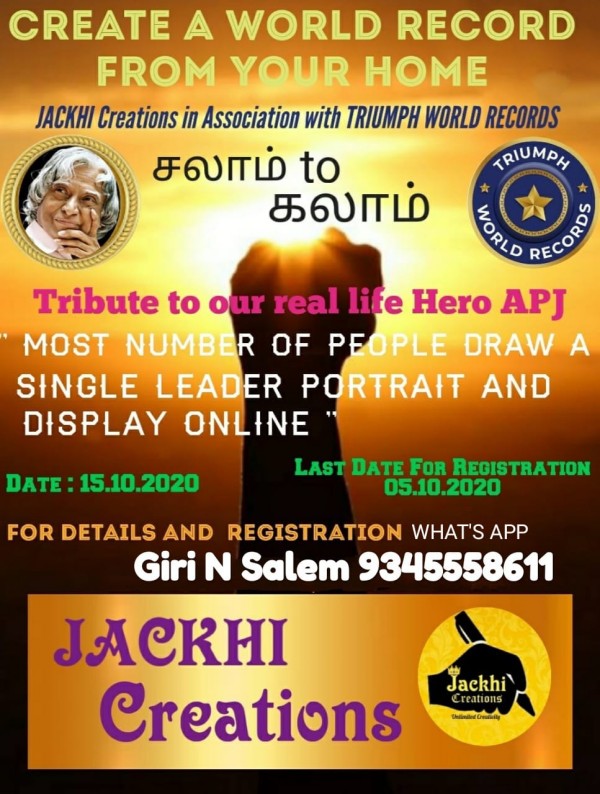 Salam to Kalam TRIUMPH WORLD RECORD Drawing Contest