"A river is more than an amenity, it is a treasure." – Oliver Wendell Holmes
World Rivers Day is a celebration of the world's waterways. It highlights the many values of our rivers, strives to increase public awareness, and encourages the improved stewardship of all rivers around the world. Rivers in every country face an array of threats, and only through our active involvement can we ensure their health in the years ahead. It is celebrated on the fourth Sunday of September globally.
Skill Tree celebrates this day with 'River Race' – online contest to create awareness about the rivers and its importance among students. Through this contest they will come to know about the river names, their origin state and their tributaries.
Contest Details:
Primary : Age 4 & 5 – Recite river names
Sub-Juniors: Age 6,7,8 – Locate river origin
Juniors: Age 9,10,11 – Tributary river test
Contest will be conducted via zoom.
Students will be grouped in each category and slots will be provided.
Study material and rules will be provided to each category after registration.
E-certificate provided to all participants. Winners will receive trophies.
Registration Process:
Fee : Rs.150/-
Last date to register : Sep 25th before 6pm
For more details whatsapp to 8838500794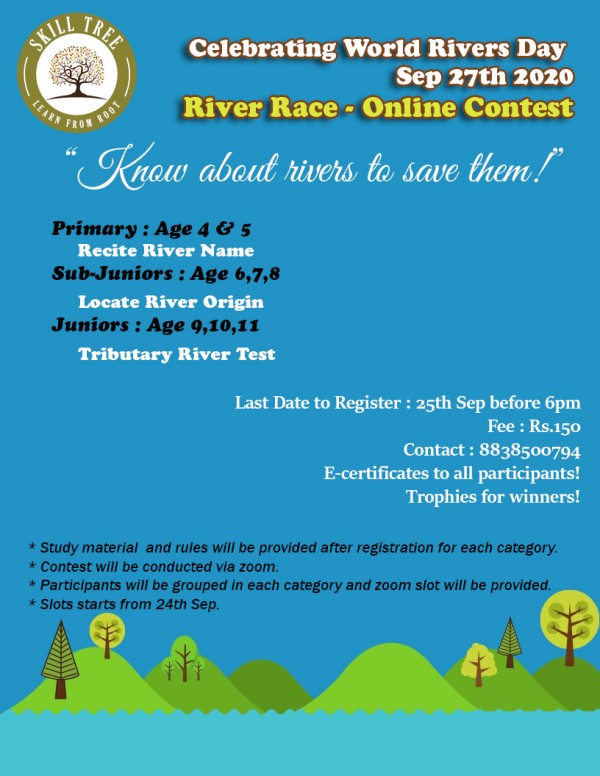 River Race Online Contest by Skill Tree