BAPU – The Father of Nation, Online Painting Competition on occasion of Gandhi Jayanti.
ABOUT COMPETITION
Kalakriti Art Foundation is a NGO Registered under Society Act 1860, Govt of Jharkhand. Working for the development of art and culture and social service since 19 years. This is the Platform which aims to provide quality solutions to objectives through the medium of Competition.
On the occasion of Gandhi jayanti lets express your belief and feelings towards Mahatma Gandhi – The Father of Nation through, Paintings and Sketching. So under the aegis of Kalakriti Art Foundation, an online art competition is being organized on this occasion. Obviously, the theme of all the artistic creations have to be situated within the Country, and also the entries can come from anywhere in the world.
Please read and be sure you understand thoroughly the Rules and Regulation for participating in this competition.
ART COMPETITION RULES
The following are the rules for entering the
Bapu- The Father of Nation
All India Online Painting Competition 2020.
TOPIC/SUBJECT/THEME :
The Life of Mahatma Gandhi
WHO CAN PARTICIPATE ?

Competition is open to all students (

Class Nur/Prep/KG to Class 12th

) and

Graduation & Above and Professional Artists also
The work must be made by the participant at their own.
It is important to read the rules and procedures before submitting work to us. Please follow the theme of each competition. If you have any questions regarding the theme and its interpretation, contact us at kalakritisoa@gmail.com. We will help you with the submission process.
Entries must follow competition theme.

This is a National level competition and any one Indian can participate across the Globe.

One participant can submit any number of entries with separate participation fee for each entry.

All the entries will be divided in below mentioned age groups & Evaluation will be done accordingly.

Files must be in JPG/JPEG format.

Files may not exceed 1 MB.

No art previously submitted in any other competition.

Experimental and mixed techniques are welcome.
If you have questions regarding the competition theme or rules, please contact us at
kalakritisoa@gmail.com
Colour to be used and Paper Size:
Any colour medium to be used for painting

Any size of paper is allowed after selection you may ask to send/submit original paintings with organizers.
GROUPS & PARTICIPATION/REGISTRATION FEE Maximum 5 Entries per person is allowed with seperate fee for each submission :
All the entries will be divided in below mentioned age groups & Evaluation will be done accordingly.
Group A : Class NURSERY/KG/PREP/1 to 3
Group B : Class 4 to 7
Group C : Class 8 to 12
Group D : Graduation & Above (Professionals)
AWARDS & RECOGNITION:
All participants will receive digital participants certificate and a Photo collage.

GOLD MEDAL : 5 Winners

from each group will get a

Gold medal and National Winner Certificate

.

SILVER MEDAL : 10 Winners

from each group will get a

Silver medal and National Winner Certificate
BRONZE MEDAL : 15 Winners

from each group will get a

Bronze medal and National Winner Certificate
Others surprises too..
SOCIAL MEDIA WINNER : TOP 10 based on likes only
SUBMISSION DEADLINE: Last Date : 05th OCTOBER 2020
The online painting competition is open to all Indian Citizen around the world who have completed the age of 4 years and above. The Contest begins on 17th September 2020 and the closing date for receipt of entries will be
05th October 2020
midnight (IST) ("Contest Period"). All dates are subject to change.
HOW TO PARTICIPATE and SUBMIT YOUR PAINTING: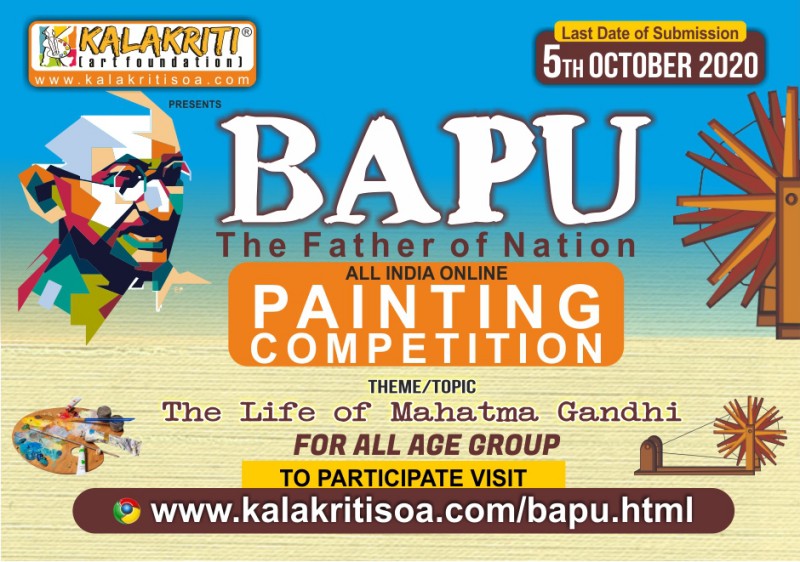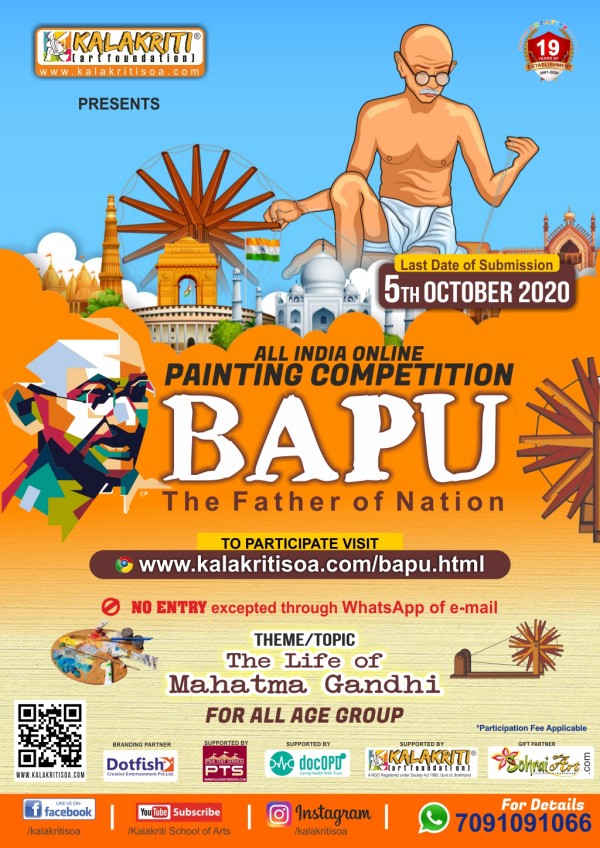 BAPU – The Father of Nation, Online Painting Competition on occasion of Gandhi Jayanti