Twinkling Star Kids Vinayagar Chaturthi Online competition.
Age 3 years to 10 years
Rules:
1. Activities should be done only by kids, 2 to 3 min video is mandatory for all the events. Kindly do not submit old entries or already submitted entries. Duplication if found would be rejected and disqualified at once.
2. Events
1. Fancy Dress Contest – (Age 3yrs to 6yrs)
(Vinayagar, Murugar, Shivan, Parvathi)
2. Colouring Contest – ( Age 3yrs to 6yrs)
(Sheet will be provide)
3. Singing Contest – (Age 7yrs to 10yrs)
(Vinayagar – Songs/slokha)
3. Payment can be done through Gpay/Paytm/NEFT
4. Jury decision is final.
5. All participant would receive 'Participation E-certificate'
6. Winners would receive ' Winners E-certificate and Medal'
7. Registration Fee: Rs.150 per Event for Chennai, RS.190 per Event for outside Chennai
8. Last date for registration: 22.08.2020
9. Last date for submission: 25.08.2020
10.Result are supposed to be announced by 30th August 2020.
Contact no: 8610718163.
NOTE: Any age group can participate in any number of events and receive e-certificate.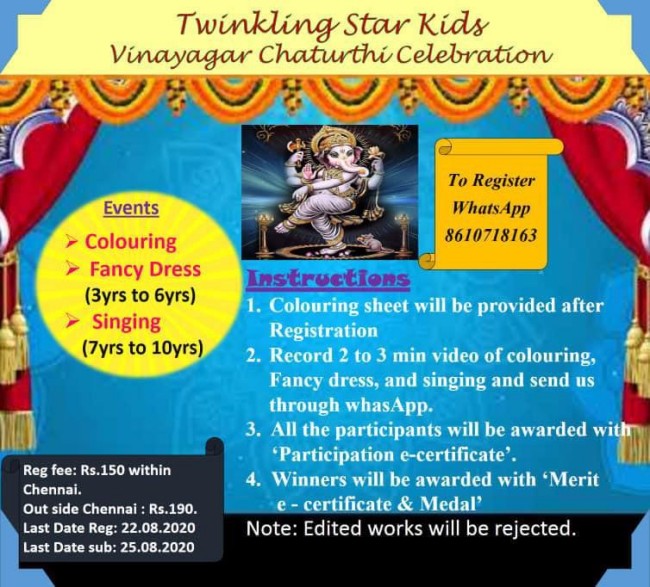 Twinkling Star KidsVinayagar Chaturthi Online Competition