R&H Sports Club Online Talent Hunt Season 1.
Online Drawing competition.
Online handwriting competition.
Online fancy dress competition.
Online essay writing competition.
For drawing :
Group A: Festival ( class 1th-5th std).
Group B: Water conservation (class 6th-10th std).
Rules:
1.Send your painting clear picture to our whatsapp.
2.only one painting is allowed.
3.Management decision will be final.
For Handwriting:
class (1-5th std)
Rules:
1. Use either ruled or unruled paper.
2.No artistic handwriting allowed
3.Participants can use only pencil or ballpoint pen (Blue or black ink).
4. We will share the content after registration.
5.Management decision will be final.
6.record a video of writing and send along with an image of content.
For Essay writing:
Class 6th- 10th std
Topic:What are the symptoms and effects of corona virus and how to prevent it.
Rules:
1.Use Either ruled or unruled paper.
2.Participants can use only ball point pen(Blue or Black ink)
3.Essay should not exceed 300 words.
4.Management decision will be final.
For Fancy dress:
Class Group A: (1st-5th std).
Class Group B: (6th-9th std).
Rules:
1..No edited videos are allowed.
2.Send recorded video to whats app number.
3.No horror or halloween fancy allowed.
4.The video should not exceed 1min.
5.Management decision will be final.
6.you can either do dialogue or ramp walk but it must be clear and match with topic and your dress.
Note: Each participant will get a medal and e certificate.
If you win then you will get a trophy with e certificate and courier charges are not included with the registration fee so you have to pay later.
Kindly whatsapp us no calls and whatsapp us within office hours 10.00am to 5.00pm. Refer the referral link while registration.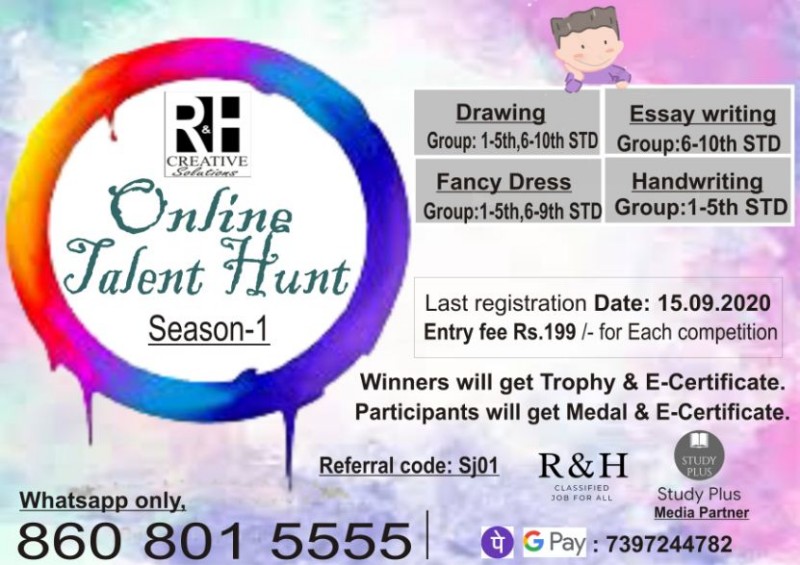 R&H Sports Club Online Talent Hunt Season 1