Everyone loves a good debate. In fact, French moralist Joseph Joubert once said, "It is better to debate a question without settling it than to settle a question without debating it." Is your child likely to agree with that remark? Then the Debating Challenge #3 is definitely created for them.
We're giving them the opportunity to engage in a verbal battle with the brightest students from India, USA, Europe, Thailand and the Middle East. It's bound to be a crackling contest!
Each debate will have 2 debaters. One arguing 'For' and the other 'Against' the topic. The debate will be held in a question-answer (interrogation) format. Each debater has 15 seconds to ask the question and gets 45 seconds to give their answer. After each question is asked, debaters get 10 seconds to collect their thoughts and then respond with their answer.
Register now @ https://bit.ly/33T70Hp or call-whatsapp us at 9902081632
Venue Address: Online Competition via Zoom.
Age Group: Under 14, Under 18
Event Date: 18-22 August 2020.
Timings: Qualifier round is 3-9 pm on Tuesday, 18th August. Final is 11 am-12:30 pm on Saturday, 22nd July
Event Fee: 299
Creative/Art Work for the event (high resolution image): Attached
Link to Book Tickets/Registration: https://bit.ly/33T70Hp
Contact Person: Gunjan Shah
Contact Number: 9902081632
Email Id: support@melio.co.in
Website: www.melio.co.in
Facebook Page: https://www.facebook.com/Melio-126278072105875
More Info-
Qualifier Round Motions
Under 18
Environmental organizations should start a campaign of sabotage and destruction (eco-terrorism) against major pollution companies.
Under 14
India should prioritise employment issues, even at the expense of significant harms to the environment
Final round motions – To be announced on Wednesday, 19th August, along with results of qualifiers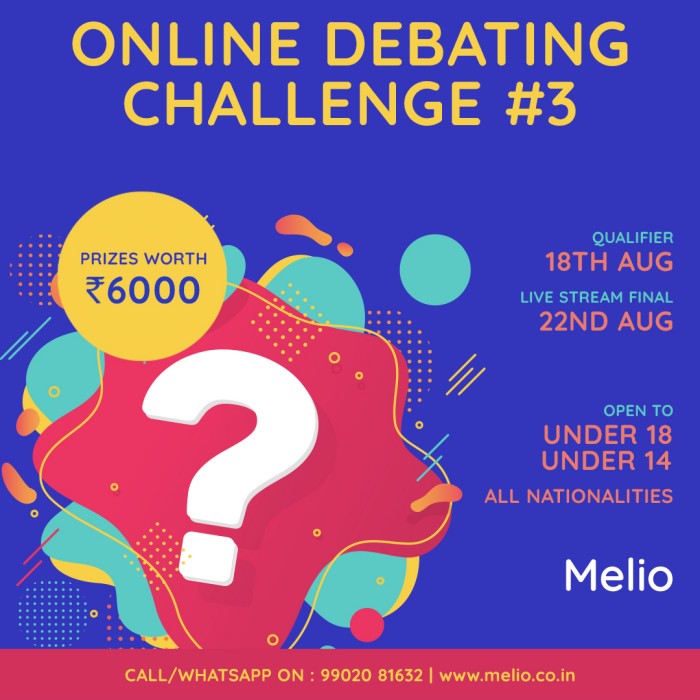 Melio Online Debating Challenge #3