EXECTIS multi talented International level Competition
KRISHNA JAYANTHI
AGE
Group I – Lkg To I std
Group II – II Std to IV Std
Group III – V Std to VIII Std.
Group lV– lX Std to Xll Std
EVENT
1.Art and Craft (Peacock Crown)
2.Decorate a curd pot
3.Footstep Rangoli
4.Decorate a Flute
5.Create Peacock Feather Party Favour
6.Drawing (Beautiful kolam Card making)
7.Colouring ( Lord Krishna Colouring paper)
8.Fancy Dress (Dressup as Lord krishna)
9.Story Telling from Lord Krishna
10.Slogam (Lord Krishna Slogam)
11.Singing (Lord Krishna Songs)
12.Speech (few words about Lord krishna)
DETAILS
3.Payment can be done through bank account
4.Judges decision is final
5.Winners will receive MEDALS and CERTIFICATES
6.Participate more than 6 event and win more than 4 events will be awarded with trophy and winner certificate.
7.Reg Fee:Rs 300 per event.
For more details contact:8248717426
Last Date : 30 August 2020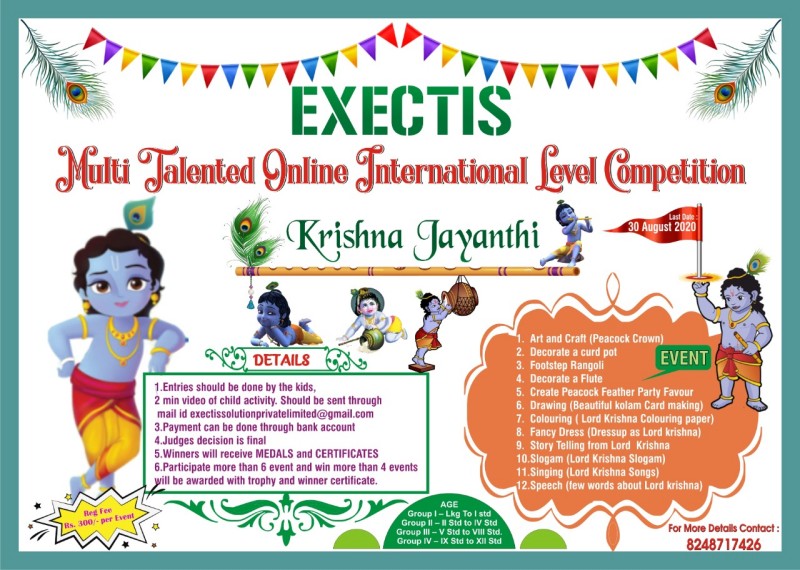 EXECTIS Multi talented International level Competition Krishna Jayanthi